Will Smith Tears Up Talking About His Son And We're Getting Emotional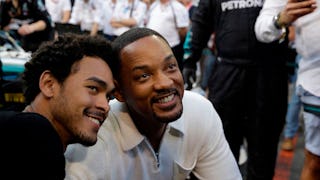 Image via LUCA BRUNO/AFP/Getty Images
Will Smith and his son Trey show that they're #BlendedFamilyGoals
Will Smith recently admitted that he and his oldest son, 26-year-old Trey, haven't always had the best relationship. But he was also so proud to report on Instagram that they've managed to patch things up and love each other again.
"We STRUGGLED FOR YEARS after my Divorce from his Mother. He felt betrayed & abandoned," Smith said in the caption. "It is a Wild Blessing to recover & restore a Loving Relationship with My Beautiful Son!"
The video cuts between Will Smith dressed in a white robe, talking about his son and his trip, interspersed with pictures of the two having fun at the race track. The pair were on a getaway to Abu Dhabi to catch the Grand Prix Formula 1 races, and to have some one-on-one father-son bonding time.
"Yo, so I'm in Abu Dhabi at the F1. I brought my son Trey," he narrates in the video. "We've been hanging and I usually take my kids separately on stuff so they have their individual daddy time."
He continues:
"So we've been doing this, hanging at the F1, and he said, 'You know what dad? I just realized you're not just my dad.' He paused and said, 'I'm pretty sure you're my best friend.'"
Smith then struggles to maintain composure (along with basically anyone else who is watching the video) before saying he responded with a heartfelt, "Probably. Probably."
His son responded to the video with a comment: "awwwww shucks ♥️ you too big guy."
Trey also posted his own pictures from the event on his Instagram page. "WE always have the BEST time," he commented on one photo, of the pair laughing. In another he says, "Kicking off Monday with my GUY in LIFE."
Trey is the only child from Will Smith's first marriage to Sheree Zampino Fletcher in 1992. The couple divorced in 1995 before Smith married his current partner, Jada Pinkett Smith, in 1997.
While there seem to have been rough points, Smith and Fletcher have remained friends and stayed in each others' lives — and even Pinkett Smith and Fletcher are on good terms.
Earlier this month, Will Smith wished Fletcher a happy birthday, saying, "I love you, Ree-Ree" and #BestBabyMamaEver.
Also this month, Trey posted a picture of his mom and stepmom and step-siblings, saying, "Change isn't easy… Especially when it isn't on your own terms. But change is necessary for growth. Even if I didn't know it then. I've always been surrounded by love."
It's so wonderful to see the family opening up about the struggle they had through divorce and remarriage, as well as seeing that if you work hard at love and your relationships, blended families can be bursting with love.