The First Look At Will Smith Singing And Dancing To 'Prince Ali' Is Here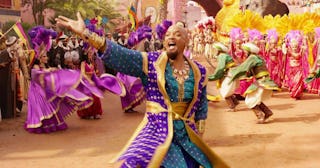 Disney
Finally, we get a good look at a musical number from the Aladdin remake
Ever since it was announced that the live action remake of Aladdin would be a musical movie like its cartoon predecessor, we've been dying to get a good look at one of the musical numbers that's been so near and dear to our hearts since the original was released in 1992 (yes, that is 26 years ago, and yes, we are as shewk over that as you are).
Finally, finally, Disney hath giveth. A clip just dropped showing Will Smith in his role as the Genie, singing and dancing his way through the streets of Agrabah. That's right, the song Disney chose to bless us with is none other than "Prince Ali," one of the original movie's most iconic and show-stopping numbers.
So. Some initial observations. Will looks fantastic. Like, he is owning this role. He's not Robin Williams, but he does look like he's fully making the role his own, which is all we can ask for when an actor has such giant shoes to fill.
And while Will is a talented enough singer, he's a hip-hop artist. This song is pretty much exactly like the original in terms of how it sounds. It might have been fun to let Will put more of his own spin on it — a hip-hop inspired version would have been very cool, and it feels a little like a missed opportunity, especially with how hard it is to live up to the legacy of someone like Robin Williams.
Then there's the choreography, which is on point, and the general fabulousness of the parade, which we are solidly here for.
Overall? This is very cute. It's taken out of context, which makes it hard to see how this scene will fit into the greater arc of the full film. But Disney stans, especially those born in the '90s who were raised on the classic cartoon films like Aladdin, will definitely feel this tugging at their heartstrings. I know I do.
Unfortunately, the internet has some differing opinions, as the internet is wont to do. There are people who love the sneak peek, and others who are seriously let down by it.
https://twitter.com/jetpack/status/1128154784819699713
But even people who are unsure how they feel about this number have not been deterred from their plans to see the movie.
Others are straight up into it.
No matter where you fall in the great "Prince Ali" debate of 2019, you cannot deny that Disney is straight fire right now. This clip dropped on the same day as the teaser trailer for Maleficent: Mistress of Evil, which looks absolutely stunning. And Aladdin will be dropping this summer, just before Toy Story 4 and the live action remake of The Lion King also hit theaters. Basically, this whole summer/year of our lives is dominated by Disney, and we aren't mad about it.
Until May 24, when we can finally see Aladdin, you can catch us quietly singing "Prince Ali, fabulous he Ali Ababwa" because it's bound to be stuck in our heads pretty much constantly for the next few weeks.
This article was originally published on