Will Smith's Birthday Message To His Wife Is The Sweetest Thing You'll See Today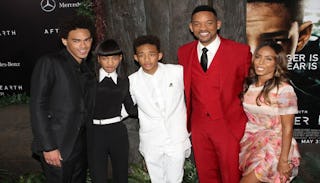 If you've been in a relationship with your partner for a long time and you're finding it difficult to keep the fires of romance burning, Hollywood A-lister Will Smith just gave you some new relationship goals.
The former Fresh Prince star took to his official Facebook page this morning to share a special throwback snap of his amazing wife, actress Jada Pinkett Smith, along with a sweet message to mark her 44th birthday. The photo is of a very youthful looking Will and Jada sitting together in the backyard at Jada's mom's house. It was taken a whopping 20 years ago — yes, they've actually been together that long — but it's the caption beneath the photo that's gotten everyone's attention. Will writes:
Did your heart just explode into a million tiny pieces that all have individual crushes on Will Smith? Yeah, same here.
Will and Jada have been married since 1997 and have three almost-grown children. They've defied the odds of most celebrity couples and even quite a few non-celebrity couples, and it's really inspiring to see how happy they are. You always hear about celebrity divorces, but you almost never get a chance to see successful Hollywood couples making it work and sharing their love with the world.
Staying together is challenging no matter who you are. It's probably not the most romantic thing in the world to talk about all the hard parts, but it's reality: marriage and commitment take a lot of work. There's a lot of stress, obligations, and exhaustion to fight through before you can find time to just be together, and even then it's hard to keep the passion alive.
Will's birthday message to Jada is a good reminder that it's the little things we do each day that ultimately keep our relationships thriving. Maybe you can't afford flowers or you haven't had a date night in years, but that doesn't mean the romance has to die. Even a small gesture like a Facebook post can make a significant other feel special and bring the two of you closer together.
Not every relationship is meant to last forever, but the good ones are absolutely worth fighting for. If you can find ways to make each other a priority and focus more on the good times than the bad, chances are you'll stay together just as long and just as happily as Will and Jada.
This article was originally published on