Is William H. Macy The Best Husband Ever?
by Jeanne Wolf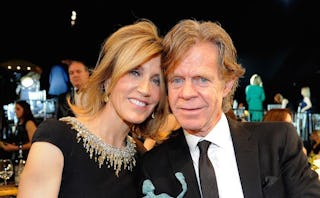 The actor, 65, talked with The Mid contributor Jeanne Wolf about his new role, living in a house full of women, and the key to his long-lasting marriage with actress Felicity Huffman.
You have a small but really fun role in Walter. Is it less of a challenge than being the leading man?
It's a different kind of challenge. You're only there a couple of days and one of the dangers is that you try a little too hard to make something out of a cameo. I think it's important that you take a deep breath and do the job with a light touch. It was a hoot to play this shrink, Dr. Corman. He tells it like it is. He says the kind of things you wish shrinks would say more often.
Your other major role in life is dad. Do you try to give your two girls rules to live by?
We actually do talk about moral fiber with my daughters. My wife [Felicity Huffman] is more spiritual than I am and a lot more religiously schooled, so we try to mix it all in. We try to make sure that it's always about what's right and what's wrong. I've always believed, "Have few rules, but don't break them." I think we all know what's right and wrong.
Even when it comes to what they wear?
Oh my gosh. I'm like a cartoon father. "Hold on! You're not going out of the house dressed like that." I become a complete cliché. I feel very torn. My daughters are 12 and 14, and they are stunningly good looking. I can't blame them for not hiding their bodies but, on the other hand, I'm like, "Go back and put on some clothes." They're good girls and they're smart and everything will be fine. Actually, it's fun to watch them finding their way and it's even fun to watch myself freaking out about it.
Who do they go to first for support?
My daughters tend to go to my wife for the heavy stuff. I live in a household of women, my assistant is a woman, it's all women! We even have three female dogs. Every once in a while, I'll speak up, but I have to raise my hand and go, "Hey. I'm a guy. Could we back off the male bashing a bit and let me offer an opinion?" And every once in a while they'll listen.
Your love of motorcycles should be a good escape from all the estrogen.
Motorcycle riders have this aura of being bad boys, of being outlaws. And that feels good. It really does. You feel powerful and strong. I wear a full face helmet, special clothes like chaps, and the boots. I told Felicity that I feel like a knight of old when I'm on my motorcycle.
You and Felicity seem to have such a strong marriage. Is one of the keys that you have to be each other's cheerleader?
That's brilliantly put. That's the cornerstone. If you want your partner to succeed and be happy, I think everything will work out. That's the bottom line, isn't it? Felicity wants me to succeed and she's happy with my success, and I feel the same way about her. I want her to be happy, and I want her to succeed, and I'm willing to do just about anything to help her do that.
This article was originally published on