William And Harry Tell Kate What It Was Really Like Losing Their Mom
by Mike Julianelle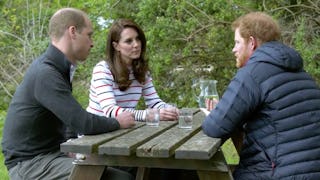 Image via Facebook
Prince William and Prince Harry get real about the mental trauma of losing their mother
Sometimes it can seem impossible to relate to people who live in palaces and castles, until they reveal hidden pieces of themselves and remind you just how human they are.
The Royal Family shared a video on their Facebook page – yes, their Facebook page is actually called 'The Royal Family' – in which the Duke and Duchess of Cambridge and Prince Henry discuss the tragic death of their mother, Princess Diana, when the two were still just young boys.
"We've never really talked about losing a mum at such a young age," Henry says to his brother. "When you speak to other people's families, you think, wow I don't want them to have to go through the same thing."
Not only do William and Harry candidly discuss the impact their mother's death had on them as children, they are doing it for a great cause.
The Heads Together initiative seeks to end the stigma that often accompanies conversations about mental health, something the brothers admit has effected their own dialogue about Princess Diana's absence from their lives.
"I always thought to myself, what's the point in bringing up something that's only gonna make you sad? It ain't gonna change it. It ain't gonna bring her back," Harry says, after William concedes that the very same thoughts often prevented he and his brother from talking about it.
Nevertheless, it's clear to Duchess Catherine that the bond the brothers share is extraordinary, and suspects it's so strong because of their shared past. "I put that down to your really early years, childhood experience. But, also the relationship you've got. You're amazingly close," she tells the pair.
It doesn't matter if you're rich or poor, famous or not, mental health is an issue that impacts everyone, one way or another.
The Royal Family is using their very public tragedy to help do their part to shed light on that fact, as well as the way that society's dismissal of that fact is detrimental to everyone. Blue bloods, muggles, and all.
The Royals are speaking openly about their own mental health in an effort to reduce and eliminate the stigma surrounding such issues, and this video on Facebook live, which already has over 700,000 views in less than a day, is a great start.
This article was originally published on