California Man Murdered Wife, Propped Her Up On The Sofa, And Said 'Mommy Ruined Christmas'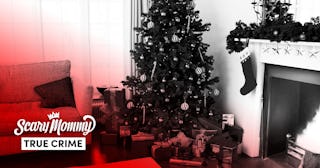 Scary Mommy and Chris Ryan/Getty
On Christmas morning of 2011 in Anaheim, California, a horrific scene unfolded for two young sisters, aged three and eight. Something was very, very wrong with their mother. She was sitting slumped on the couch, a pair of sunglasses placed by the girls' stepdad shielding her eyes. She wasn't speaking or moving. The girls' younger brother, still an infant, was blissfully unaware of their mother's troubling posture.
Their stepdad, their mother's husband, told the girls, "Mommy ruined Christmas, she got drunk and ruined Christmas." Still, he instructed the girls to go ahead and open up their presents.
But the children's mother, Za'Zell Preston, just 26 years old, was, of course, not drunk. She was dead. Her husband, William Wallace, had killed her via blunt force trauma to the head the night before, after attending a Christmas Eve party at the neighbor's. Preston's 8-year-old daughter already knew this. She had been recruited by Wallace during the night to pluck glass shards from her dead mother's body.
The following morning though, Wallace, aged 29 at the time, dragged Preston's body from the bedroom to the living room, propped her up on the sofa in their apartment, slid sunglasses on her face to cover her eyes, and told the girls to open their presents.
According to a press release from the district attorney's office, William Wallace placed a call to 911 at 9:30 a.m. Christmas morning to report that his wife was in need of medical attention. When Anaheim Police Department officers arrived, they found Preston still slumped on the couch. They transported her body to the hospital where she was pronounced dead.
In a tragic twist of irony, Za'Zell Preston had been taking college courses to become a domestic-violence counselor. Or maybe her choice of profession wasn't ironic at all — Wallace had already been imprisoned previously for assaulting Preston, and according to those who knew them, Preston apparently lived in constant fear of Wallace. She had an intimate understanding of the inner workings of domestic abuse.
Wallace's trial, held in March of this year, revealed a horrific, persistent pattern of violence toward Preston. Her relatives had told investigators that Wallace was "controlling and violent" and had threatened to kill Preston multiple times. Once, a relative had discovered Preston, pregnant at the time, lying in the street in the fetal position after Wallace had allegedly beaten her.
The night of Preston's death, the couple had attended a Christmas party at a neighbor's. One neighbor reported hearing Wallace and Preston arguing later in the night, and another neighbor said they'd seen William Wallace picking up what looked like a body near the apartment gate.
Prosecutor Brown told the court that Wallace had said to one of Preston's relatives that "we were drinking and during the argument I tossed her around a bit." Preston had tried to run, Brown told the court, but Wallace had caught her and forced her back to the apartment.
In the apartment, law enforcement discovered blood spattered throughout, holes in the walls from where Wallace had punched through the drywall, and a door torn from its hinges.
Defense attorney Heather Moorhead claimed that Wallace was not responsible for Preston's death — that the couple were simply arguing, that both were drunk, that Preston had stumbled into a glass table, shattering it and supposedly causing her own death. "Mr. Wallace is being accused of something that is not his fault," she told the jury. "You will hear about a relationship that was full of arguing and yelling, but also a lot of love."
But Preston's then-8-year-old daughter testified that William Wallace had directed her to help him pull glass out of Preston's body. According to the Orange County Register, she said Wallace had dragged Preston to the bathroom and dropped her against the toilet. "After she hit the toilet, and I think she was passed away, he just took her to the bedroom and put her down to sleep while she was deceased," Preston's daughter, now-18, said. "That is what I remember, because she was cold."
Side note: Do you think defense attorney Heather Moorhead is able to sleep at night?
Wallace, now 39, was officially convicted of second degree murder on April 7 of this year. His sentencing hearing was on June 4. Preston's mother Saidell Preston spoke at the sentencing hearing, according to the Orange County Register, saying, "He beat and tortured my daughter and at the same time mentally assassinated her children. He showed her no mercy. Let's show him no mercy."
William Wallace was sentenced to 15 years to life in prison, 9 years of which he has already served.
If you or someone you know is in immediate danger, call 911. If you aren't in immediate danger and/or you have an opportunity to reach out, do. Confide in a trusted friend, family member, therapist, and/or volunteer with an abuse shelter or call a domestic violence hotline.
This article was originally published on