The Willy Wonka Prequel Finally Has a Release Date
by Kristine Cannon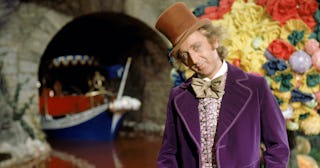 Warner Bros.
At the helm are 'Paddington' director Paul King and 'Harry Potter' producer David Heyman
Fifty years after Gene Wilder portrayed the eccentric owner of a chocolate factor, Willy Wonka, in the 1971 film Willy Wonka and the Chocolate Factory, Warner Bros. has finally set the date for Wonka, a prequel to Roald Dahl's 1964 book Charlie and the Chocolate Factory.
Slated for a 2023 release (March 17, 2023, to be exact), Wonka will be an origin story focused on "a young Willy Wonka and his adventures prior to opening the world's most famous chocolate factory." Directing the highly anticipated film is Paddington director Paul King; producing the film is David Heyman, who produced all eight Harry Potter films; and writing the film is Simon Rich, whose latest works include Seth Rogen's HBO Max film An American Pickle.
While casting for the movie has yet to begin, rumors are already smiling regarding who will play the role of the chocolatier, with Timothée Chalamet and Tom Holland reportedly leading the pack. According to Collider, both young actors appear to have gaps in their schedule. Previously, in 2016, Ryan Gosling, Donald Glover, and Ezra Miller were in the running to play the character. We, for one, have to agree with casting a female Wonka…
The film, which has been in development for about four years, is the only wide release scheduled for March 17, 2023. The week before, Disney is expected to premiere an untitled live-action movie, Deadline reports. According to Variety, the studio plans to start production within the next four months.
"We are still trying to figure out how to tell that story, what the story is," Heyman said in 2018, when he confirmed that the project would be a prequel. "What makes Willy — when we find him at the chocolate factory doing the golden ticket, where is he before that? What leads him to that place where he's locked himself away? … It's how does he get there? So we're playing around with that."
Previously, in 2016, Heyman told Slash Film that they're exploring Wonka's possible past, including his childhood.
"It's challenging because you don't have Dahl, you don't have a Dahl book, and yet you have a Dahl character," Heyman said. "But I think there's a lot in his character that suggests who he is and also where he might come from or what his childhood or his middle age might have been like. So we're exploring that. We're discussing it. We're in the very early stages and very excited about what lies ahead."
Warner Bros. isn't the only studio taking on Willy Wonka. It was previously reported last March that The Mandalorian's Taika Waititi is collaborating with Netflix to write, direct, and executive produce two original animated series, one of which is based on the world and characters of Charlie and the Chocolate Factory. The second series is an original take on the Oompa-Loompas.
"I grew up reading Dahl stories and lived large parts of my young life in those magical worlds, so finding just the right creative partner to bring Willy Wonka, Charlie and the Oompa-Loompas to life in animation was a daunting task… until Taika walked into the room," said Netflix Vice President of Original Animation Melissa Cobb. "Then, it was really obvious: If Dahl had created a character of a filmmaker to adapt his work, I'm pretty sure he would have created Taika."
According to Netflix, the two new shows will "retain the quintessential spirit and tone of the original story" while also building out the world and character beyond the pages of the Dahl book for the first time.
"In the words of Willy Wonka himself, we are 'Delighted! Charmed! Overjoyed!' with Taika's appointment on this project," said Gideon Simeloff, commercial and entertainment director for Roald Dahl Story Company, in a prepared statement. "There is something undeniably Wonka-esque about Taika's creative flair and inimitable sense of humor and we cannot think of anyone more perfectly suited to leading the creative charge on these first of their kind, feature quality Netflix shows."