This Wine Purse Is Business In The Front, Party In The Back
by Valerie Williams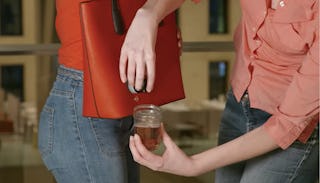 Image via YouTube
It holds two entire bottles of wine
Love bringing wine with you everywhere you go but don't love carrying it in a sketchy paper bag? Have we got news for you. There's a fancy new purse for sale that not only holds your wine, it dispenses it at will.
Yes, all your dreams are about to come true.
Last year, we found a cool wine purse, but it was a bit on the casual side. So, we have a wine bag for beach trips and sitting through 4-hour Little League games, but the availability of a wine bag for more formal occasions was sadly lacking. Not anymore! Now, we have a more upscale choice for when we need to go business in front, and mom party in the back. Behold. PortoVino.
Peep those color options, ladies! And that cool flappy thing that covers our sneaky little secret — the spout that shoots out the happy juice. And inside, it holds all your regular purse items plus, enough space for two entire bottles of wine. That's two PTA meetings, two work meetings, two trips to see your in-laws — the possibilities are endless.
Plenty of room for all the essentials — a wine key, a few plastic cups, a lip gloss and money. To buy more wine, duh. All you have to do is fill the bag that comes with the purse with your favorite drink. Wine, liquor, beer. It's all up to you.
And speaking of money, have you BEEN to a bar lately? I was out with friends last week and when I saw the drink menu, I wanted to cry. $12 glasses of wine when you can buy literally the entire bottle at Safeway for that exact price? No mom on a budget has time for that shit, so just fill your magic purse with Two Buck Chuck and watch the savings add up.
Plus, you can be everyone's BFF with your handy supply.
Men will want you. Women will want to be you. OK, maybe not so much, but you will have a flock of new mom friends hanging on your every word if you show up lugging this little godsend. The good news is their relatively reasonable price of $75. For a purse that holds the life blood along with your favorite lip gloss, that's frankly a bargain. You can buy one here. Happy pouring!
This article was originally published on