5 Ways Date Night Changes With Kids
by Lisa Witherspoon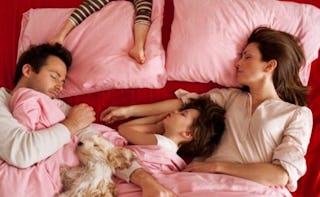 Preparation
Before Kids: Preparation would begin at least an hour before it was time to leave. You would shower and agonize over what to wear. You would carefully curl your hair and apply just the right amount of makeup. Your husband would shave and dab on your favorite cologne. You would casually head out about 7:00 pm.
With Kids: Preparation begins days in advance because, now, you have to compare calendars and find a free evening. Then, you have to secure a babysitter. When the day arrives, you make lists of phone numbers and bedtime instructions. About twenty minutes before you walk out the door, you grab you best pair of jeans, slap on some makeup, and throw your hair into a ponytail. Finally, you say bye to the kids and scurry out the door about 5:30 p.m.
Dinner
Before Kids: You chose a restaurant with a party atmosphere. It likely had cheap appetizers and a great bar with giant, rainbow-colored "fishbowl" cocktails that you could share.
With Kids: You choose a restaurant with a quiet, calm atmosphere. The wine list is extensive.
Conversation
Before Kids: You discuss the latest celebrity gossip, friends, and maybe work. You also discuss your plans for after dinner.
With Kids: You swear you will not discuss the children and then you do it anyway. You might manage to squeeze in some discussion about work, politics, or schedules for the coming week.
After Dinner
Before Kids: You used to head to a late movie, go bowling, or take in a concert. That was often followed by hanging out at a coffee shop or meeting friends at bar for a few more drinks.
With Kids: You might see a movie, but it's more likely that you will use the time to run errands, shop for kids' birthday presents, or end up perusing the aisles at Barnes & Noble.
Returning home
Before Kids: You get home sometime around midnight and slip into a little lingerie. Eventually, you would fall asleep knowing that you could sleep in the next morning and go out again the next night.
With Kids: You are home by 10:00. You thank the sitter, check on the kids and give them each a kiss. You tell each other that you must make an effort to do this more often. Then, you slip into your comfiest pajamas, and go to sleep knowing you'll be awoken bright and early. And it will be quite some time before you do this again.
This article was originally published on