Woman Has Truly Adorable Freak-Out When She Finds Out She's Going To Be An Aunt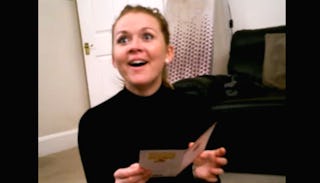 This woman had the most hilarious reaction to finding out she's about to become an aunt.
Another day, another pregnancy announcement — except this one is actually the cutest baby announcement you've ever seen. A dad-to-be in Scotland shared a hilarious video on Monday of his sister finding out she's about to become an aunt, and her insanely adorable reaction is one for the YouTube record books.
Lindsay Macdonald tells ABC News she'd just returned home after a grueling 10-hour day at work, when her brother, Stuart, and his wife presented her with a greeting card. It was addressed to "Aunty Lindsay," but since she refers to herself as an aunt when talking about Stuart's dog, Willie, she thought nothing of it. In the video, she opens the card and reads it aloud until she gets to the part at the end that says, "Lots of love from Stuart, Katie, Willie, and Baby Mac." That's when it finally dawns on her that this is not just an ordinary card, but rather a surprise announcement that she's about to get a new niece or nephew.
At that point, she completely loses it and dissolves into the most adorable combination of laughing, crying, and squealing that the world has ever seen. Her joy is so palpable it feels like you just found out you're about to become an aunt, and that's why the internet just can't seem to get enough of her. The video clocked an impressive 9,000 views in its first 24 hours online, and now it's been watched over 15,000 times.
Macdonald tells ABC she was "absolutely gobsmacked" by the announcement, but her brother says her over-the-top reaction was exactly what he expected. "The video shows Lindsay perfectly," he said. "She always wears her heart on her sleeve, so for me a reaction like this was not a surprise at all. I think everyone that knows her would have expected tears and lots of noise from her."
Viral pregnancy announcements are kind of in vogue right now, and it seems everyone wants to be the next YouTube sensation, but this video is genuinely fun to watch. We all daydream about the moment we'll share our exciting baby news with family and friends, and Macdonald's fit of joy is exactly the response everyone hopes they'll get. It's a memory this family will definitely cherish sharing with their baby in the years to come, and thanks to YouTube, Baby Mac will always have the thrill of knowing how much he or she was loved right from the very start.
Stuart told ABC it's customary in the UK to wait until the baby is born to find out the sex. Their new addition is due in early August, and then they'll finally know if it's a boy or a girl. I won't lie: I kind of hope they make another video so we can see how Macdonald reacts to that surprise too.