Nosy Customer Attempts To Body Shame A Woman Buying A Bikini, Fails
by Jerriann Sullivan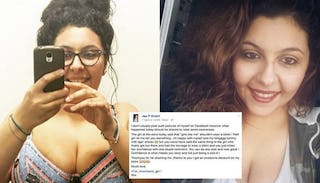 Photos via Jess Portelli / Facebook.
Woman who was body shamed while shopping isn't letting the hurtful words of a stranger get her down
A woman in the United Kingdom was shopping for a bikini when a stranger attempted to fat shame her. But this Brighton gal showed her hater that confidence is key in an empowering message shared on Facebook.
Jes Ortelli, 24, was minding her business while trying on a swimsuit in the changing room area at Matalan when another woman told her that "girls like her" shouldn't wear bikinis.
Who the hell is this person? Why does she think that 1. her opinion matters and 2. that it should be shared with anyone – let alone a stranger. If you're walking around with that much hate for people based on their size, then keep your damn mouth shut. Unless of course you're asking for the name of a great therapist or self-help book to help you work through your obvious issues.
Thankfully, Ortelli is wise beyond her years and didn't let this woman's bullshit get to her. "I told her 'girls like you shouldn't tell girls like me what we can't do,' smiled and walked back into my changing room, all proud," Ortelli wrote in the comments on her empowering Facebook message that is now going viral. Instead of letting this strangers' comments get her down, Portelli decided to post a picture of herself in the bikini with an inspiring message. "I'm happy with myself and my biiiigggg tummy with tiger stripes," she wrote.
Her response is motivation for anyone who has struggled with self-acceptance. I loathe trying on bathing suits and will wear the same one despite fading, rips, and tears just to avoid the hunt for a new one. To raise awareness after the harassment, she shared a photo of herself in the new bikini with a radiant smile.
The fact that she responded this way is incredible, because not everyone could have handled being body shamed, which Ortelli also addressed in her post. "You could have said the same thing to the girl who finally got out there and had the courage to wear a bikini and you just killed her confidence with one stupid comment," she wrote.
Surely this stranger has her own issues with weight. Hey, me too! I had an ex who was so obsessed with my weight that he once "gifted" me a personal trainer for six months. But our baggage is exactly that – ours – and shouldn't be spewed on others in the form of hateful words in a dressing room.
Everyone, regardless of shape, size, color, gender, has the right to wear whatever the hell they want without having to listen to the opinions of others. Hopefully, Ortelli's inspiring message will reach enough people because the body-shaming needs to stop. Like Ortelli so eloquently said, "You can be any size and look good! Confidence is what makes you sexy and not just being a size 6!"