Woman Dances Through Labor Pains In Hilarious Viral Video
by Melissa Kirsch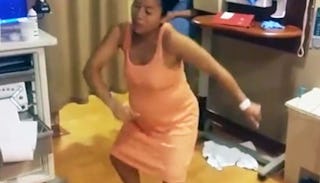 Surely you've seen the video trending of 36-year-old Yuki Nishitzawa who Tootsie Rolls her way through labor pains in her hospital room in Boston.
She's adorable, and a pretty fantastic dancer to boot—most of us don't look that cool dancing when we're not in labor. However, dancing through the pain of giving birth isn't new, though, as these inspirational videos attest. Try to sit still through these fresh moves—we dare you.
1. This woman makes me want to take up belly dancing. If she can look this mysterious nine months pregnant doing lamaze.
2. Beyonce can make pretty much anyone move their body at any time. The friend participating is priceless.
3. Would that we could all give birth in some sunny Caribbean island paradise to hypnotic reggae beats.
4. Check out the toddler twisting and shouting with her incredibly game mom. The moment at around 1:00 where she successfully dances through a painful contraction is priceless.
5. I need dance lessons from this hot mama right this minute.
This article was originally published on