Woman Saves Burnt Koala From Brushfire Using The Shirt Off Her Back
by Valerie Williams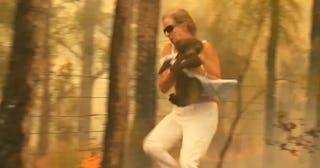 HuffPost Australia
Australian woman runs into a brushfire to save a scorched koala using her own shirt
A New South Wales woman has become a hero after video of her saving a koala from a brushfire went viral. The fact that she put herself squarely in the middle of an incredibly dangerous situation is admirable enough — but she went an extra step by using her own shirt to wrap the injured animal and keep it safe.
The brushfire was in Long Flat, about 49 kilometers west of Port Macquarie. According to reports, the koala was badly burned and a woman by the name of Toni is the reason he survived. She ran to the animal and wrapped her shirt around it, pouring water on the burns while the koala cries out in pain. It's almost unbearable to watch, but her goodness and determination to save the sweet creature makes it worth it.
This angel ran through the woods in her bra seemingly without a second thought for her own safety. Needless to say, Twitter is beside themselves with gratitude for her heroic efforts to save this baby.
https://twitter.com/jetpack/status/1197036641187065856https://twitter.com/jetpack/status/1196750506166759424https://twitter.com/jetpack/status/1196944898802540544https://twitter.com/jetpack/status/1196819623796248577
Toni told reporters she would be taking the injured koala to nearby Port Macquarie Koala Hospital, a facility already treating up to 15 koalas burned by the fires.
Among the humans doing all they can to help these animals is a Cattle dog cross-breed named Bear. He was abandoned as a puppy and his normal job is helping locate sick or injured wildlife for conservation and research purposes (not in the middle of brushfires) but now has a mission to save koalas from fires. He's trained to find them and quolls, another Australian marsupial. Yes, those are special socks he's wearing to protect his paws from the dangerous terrain he travels to locate and save koalas amid the flames. He's the very definition of a Good Boy.
The fires in NSW continue to blaze and temps are slated to go up further threatening some of the 50,000-100,000 koalas living in Australia. So far, an estimated 350 are feared to have died as a result of the current fires.
Aside from threatening wildlife, the fires have also killed six people and destroyed over 300 homes. As of today, an estimated 54 fires continue to blaze with 22 yet to be contained. It's warmer weather brought on by climate change that's helping make these blazes as deadly and threatening as they are. According to the BBC, scientists say Australia's fire season has grown worse and lasts longer due to climate change fallout.
Hopefully this screaming koala in the arms of a woman who doffed her shirt to protect him brings more attention to this horrifying reality.
This article was originally published on