We Deserve To Be Having Multiple Orgasms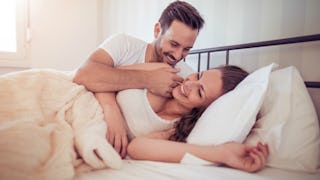 Ivanko_Brnjakovic / Getty Images
We all love an orgasm. And at its best, a good climax can take you and your downstairs to a different world–a world you never want to leave. Even if it's not a mind-blowing, off-the-charts kind of explosion, it still feels great.
We all crave feelings of pleasure, whether we know it or not. In fact, there have been times when my body needed the release and I didn't even know I was in the mood for sex. (Please don't tell me I'm the only one.)
And if you have never had the pleasure of experiencing multiple orgasms, but have always wanted to feel the sensation of tingles running through your body over and over, there are ways to achieve that. I mean, no one likes to admit to being greedy but, yes please, can I get another? And maybe two more?
There's no shame in asking for more of a good thing and, honestly, as a woman, a mother, and CEO of making things magical for all around us, we deserve to be taken to pleasure town a few times while doing the horizontal (or vertical) hula.
Having one orgasm is beneficial to our mind and body: They've been proven to make you crave less food, release oxytocin, help you sleep better, and relieve menstrual cramps. I swear whenever I have a good O, my skin even looks better. Imagine what multiple orgasms can do? I figure if I can have a few fun sessions a month, I'll look like a 20-year-old for the rest of my life–and that's reason enough.
Let's get down to it and dig into how we can get those extra helpings when we're getting it on because, let's face it, orgasms are like chips — too good to have just one.
When I saw this article on Gurl.com I read it twice–then once more for good measure. And while I was gleaning through the article, I noticed something: the secret to having multiple orgasms starts in your mind.
You have to picture yourself having them and set your intention — maybe making a multiple O vision board is in order? Imagine yourself with your partner and taking your time and experimenting with different things. There are several different ways to have an orgasm, so not all the concentration has to be on our love canal — you can achieve orgasm through making out, nipple stimulation, or anal play. I once had one by someone rubbing the back of my knee — it was amazing and left me wanting more. Why not mix it up and try to have a few different orgasms at a time? Okay, maybe I am getting a little greedy, but why not? If we can, then we should.
Here's Madge the Vag on the search for the big "O":
[ss_featured_video]
Another important tip is: don't go all in. Quickies are a part of sex life and can be super exciting. There is nothing like a good, spur-of-the-moment afternoon delight, or waking up and being so in the mood you have to wake up your partner, have wonderful sex then drift off to sleep together. But when time allows, take your time, tease each other. The build-up and tension can make it so exciting you'll want more. It's also good to have some food on hand in these situations — you are going to need the energy. Not to mention eating plus sex equals the best day ever.
Sex toys are another great way to keep the magic alive. I have an amazing vibrator that has given me a few orgasms in under 15 minutes — something no man has ever done for me and I'm not afraid to say it. I'm not giving up my time with this love stick anytime soon; it's just too good. If someone wants to join us, even better. Sex toys can enhance pleasure for both of you, and are especially good if you are wearing him out and he just wants to sit back and watch while enjoying a sandwich.
Communication is key when it comes to sex, but especially important if you want your cake frosted more than once. If your partner is wasting energy trying to get you to quiver with pleasure and it's doing nothing for you, suggest something else. This can be done in a sexy way: Try moving their hand, you can initiate changing positions, or telling them what gets you hot. There is no need to have your vag rubbed raw or to be bored — your partner doesn't what that either so don't be shy. You aren't afraid to ask a stranger for extra sprinkles on your ice cream cone, right? You can do this.
A great way to keep the party in your pants going is to not have your clitoris touched for the first (or second or third) orgasm. It makes perfect sense, your clitoris is super sensitive after an orgasm, and it doesn't feel good to have it touched or stimulated right after. It's a delicate flower that shouldn't be handled a lot. But, if you hide your pearl by tucking her in-between your labia (also known as a clit sandwich), and you or your partner do some rubbing, you will be on your way to another frenzy.
Another essential for great sex is a good lube. Seriously, if you haven't jumped on the lube train yet, order yourself some immediately. Whether you're with a partner or using a toy, lube makes everything more comfortable, and when you're more comfortable, you're much more likely to have an orgasm…or three. But, be careful, not all lubes are created equal. In fact, oil-based lubes, like those that contain coconut oil, aren't condom compatible. Yikes! My favorite is Romp by Lark Naturals. Romp is super slippery and made from all natural plant-based ingredients and plumping hyaluronic acid. It's safe to use with latex and non-latex condoms and is pH balanced specifically for the vagina. Maybe best of all, romp won't stain your sheets like some other lubes. I also love the pretty packaging. Get some here.
So, carve out some time to delve into the world of multi-Os with your lover, or by yourself. The more you practice, the easier it becomes.
So what are you waiting for?
Editors may receive samples and/or we may receive a share from purchases made via links on this page. All opinions are our own.
This article was originally published on