Women Are Placing 'I Voted' Stickers On Susan B. Anthony's Grave
by Valerie Williams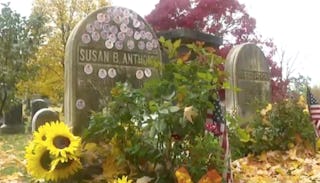 Image via Twitter/13WHAM
On Election Day, women go to suffragette Susan B. Anthony's grave to leave their "I voted" stickers
In what's become an Election Day tradition, women once again flocked to suffrage icon Susan B. Anthony's burial site to place their "I voted" stickers on the headstone.
Anthony's grave, located at Mount Hope Cemetery in Rochester, N.Y., is now a place where some women come to pay their respects after exercising their own right to vote, which Anthony fought for over 146 years ago. She was arrested for voting illegally in 1872. It was another nearly half century before women were legally given the right to vote via the 19th amendment.
She famously said, "There never will be complete equality until women themselves help to make laws and elect lawmakers." Now, Anthony was by no means perfect and it's known that she didn't do much to help women of color gain the right to vote, but her efforts are still recognized for having blazed a trail that so many activists of every background continue to work toward furthering along today.
That's why women visit her burial site to "show" her that they're using the right she fought so hard for.
Even though it was raining on and off most of today, it didn't stop people from making the trip.
The ritual was a little bit better attended back in 2016, which probably has to do with the much sunnier weather — and the fact that a lot of us thought we were about to get our first woman president. SIGH.
But still, the stickers are definitely piling up today, in spite of the rain.
It would likely do Anthony very proud to know that not only do women have the right to vote, there are also a number of women running for office this year. A record number, in fact.
As Anthony once said, "Someone struggled for your right to vote. Use it."