All The Best Signs From The Women's March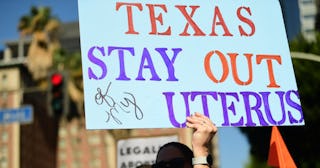 (Chelsea Guglielmino / Getty Images)
Across the country, activists joined the annual Women's March in support of reproductive health care, namely abortion rights
It's hard to believe that it has only been five years since the inception of the Women's March, because it feels like we've been fighting the patriarchy since, well, forever. It's exhausting, really. This year, marchers emphasized the right to reproductive healthcare access in over 540 marches across 50 states.
"When the Supreme Court rejected an emergency request to block Texas's abortion ban, they effectively took the next step towards overturning Roe v. Wade. Simply put: We are witnessing the most dire threat to abortion access in our lifetime," the group says on their website. "We need to send an unmistakable message about our fierce opposition to restricting abortion access and overturning Roe v. Wade before it's too late."
Message sent.
Activists flooded the streets, signs in hand. Many signs called out the new Texas law that effectively bans abortions, while others acted as a reminder that the Women's March didn't start as an inclusive endeavor. Still, all of the signs had a through line: the government needs to keep their damn hands off our reproductive rights.
And seriously, don't we have bigger issues to worry about than what someone does with their uterus?
You know, like the pandemic, or the fact we are making our planet more inhospitable to life by the second, or the systemic issues with policing and law enforcement. So many things the government could be focusing on, and yet…
If the shoe were on the other foot (AKA if cisgendered, heterosexual men could become pregnant) there would be an abortion clinic on the corner right next to Starbucks. The hypocrisy is infuriating. Where are the laws mandating that anyone with a penis should get a vasectomy? Seems reasonable to us at this point.
And, as a reminder, it is not just women who have uteruses! When fighting for reproductive rights, we have to be inclusive. Period.
How much louder do we have to be?
Some activists have been doing this for decades, showing up time and time again to defend the reproductive rights of people with uteruses.
Just because the march is done doesn't mean the work is done
Marching is a great way to build camaraderie and momentum, but it is really just the starting point in terms of working to keep reproductive healthcare safe and accessible for everyone. Write to your representatives. See how you can get involved locally. Do the work.