These Wonder Woman Tweets Will Give You Life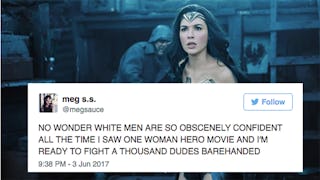 Twitter responds to epic success of Wonder Woman
Whether you love badass ladies or comic book movies about superheroes, you're going to want to check out Wonder Woman. Plenty of folks already have, which helped the film bring it $103.3 million in North America alone over its debut weekend. It also resulted in some fabulous tweets from Wonder Woman fans.
It's clear the world has been waiting a long time for this movie. And women are basking in the glow of its success.
Hard not to leave the theater totally pumped.
But it wasn't just girls and women who loved the film.
Tons of artists started sharing their sketches of Wonder Woman online following the record-breaking weekend. And supposedly comic books are just for men. Pshh.
The movie's success also reminded Hollywood executives that they should finally give movies about women made by women a fair shot.
Director Patty Jenkins, who set a new record for money made from a female-directed film, also took to Twitter to comment on the success of the superhero flick.