'Words With Friends' Partners Meet In Real Life And The Internet Can't Stop Crying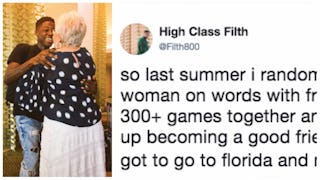 Image via Twitter
'Words With Friends' made these two real-life friends
Who says online friends can't become real friends? Yesterday, a young man shared photos of him meeting his longtime "Words With Friends" partner in real life, and the entire story will have you reaching for a tissue faster than you can spell E-M-O-T-I-O-N-A-L.
Twitter user @Filth800 played hundreds of Scrabble-esque "Words With Friends" games with an 80-year-old woman from Florida, and the two of them quickly forged a real friendship bond.
OMG. I'm not crying, YOU'RE crying! Is there anything in the whole world more pure and sweet than these pictures today?
Here we have a young guy who felt this woman meant so much to him, he had to fly all the way to Florida from New York to meet her in person.
Because Twitter isn't only full of bad news and cynics, people everywhere were immediately touched by having their faith in humanity restored.
Naturally, Words With Friends was loving it:
And so was everyone else.
https://twitter.com/jetpack/status/936794913294794753
https://twitter.com/jetpack/status/936767563576545280
One person even shared their own similar, touching experience:
The original poster shared he'd never been to Florida before, but it looks like his adorable "Words With Freinds" friend made sure he had fun.
THEY WENT TO THE OCEAN, YOU GUYS. I'm done. Brb, sobbing forever.
With social media and technology being the primary way to connect with other humans these days, developing friendships with people you've never actually met in real life is incredibly common. I've been a freelance writer for six years, and some of my favorite co-workers and mentors are people I've never actually laid eyes on. I've only ever emailed, IMed and even chatted on the phone with them (do people still do that?). But they've changed my life, helped steer and shape my career, and meant more to me than a lot of people I actually "know" in person.
Cheers to "Words With Friends" for bringing people together like this. And cheers to all the "online only" friends out there — as these two proved, it's a beautiful thing.
This article was originally published on