I'm Not At Work To Socialize. I Want To Get Home To My Kids.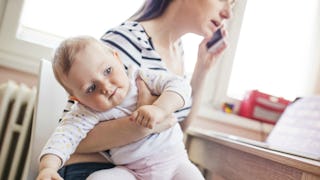 Halfpoint / Shutterstock
Here's the thing: I'm a working mom, and I miss a lot of time with my babies during the day. Like a lot. I wake up at the crack of dawn to get into the office early so that I can get out of the office at a semi-reasonable time to lick the crumbs from their days in the couple of hours I get to spend with them.
Every single freakin' minute — from the time I get into my car to leave for work in the morning (after my husband literally kicks me out of the house because I want one more measly morning minute with them and their cute, happy morning selves) to the time I race out the door at GO-TIME — must be maximized and multi-tasked for optimal velocity.
Because I want to get home to my kids.
When you waltz casually into my office to small talk because you're bored, I literally tense at the time you're pilfering from my little babies. The clock is ticking 60 Minutes-style the second I sense your lingering hesitation to interrupt my bold concentration face to shoot the shit. God help me, if there was a small-talk loop set to autopilot: Yes, the babies are great. It just goes so fast, doesn't it just?! So fast, those terrible twos…little one chewing on everything with the teething. I am sure I'll see how much harder the challenges become in sixth grade, oh, and eighth grade, and the teenage years, my God, the teenage years…I'll wish for the problems I have now…oh, and I think you have told me that funny story about yours when he went to preschool and told the teacher his sister was being sold to the neighbor…can't even imagine!…oh, and now we will segue into your Baltic cruise (sweating at seven more minutes down for the count)…It's so great that after 20 years you and the hubs are jet-setting…that your nieces are into jewelry-making now…it's not so great that your dog just got diagnosed with diabetes…I'll keep him in my prayers.
And honest to God, I do care about you and your children, and I know you love yours like I love mine. It's just that I want to spend more time in it and less time talking about it. Or that you, single co-worker, otherwise have a life that's valuable and meaningful that you want to talk about. I get it. I just don't have room to get into it with you right now.
Because I want to get home to my kids.
Let's talk about the damn meetings too. Am I right, ladies? The inane meetings where everyone talks incessantly and repeats what's already been said five times so that they've stamped their personal brand on the discussion. Or the ones where we prep for the prep meeting for the real meeting. Oh, and the introductions to everyone in the room and on the call who already know everyone in the room and on the call. That's a solid 10 minutes down right there that will cost me big on the three emails I needed to get out so I could burst out the door or avoid having to write them later when the babies are finally, finally asleep, and all I want to do is crawl into bed or catch up with my long lost husband for five minutes. Or let's take three hours to sit and answer the vendor's questions together in "real time" — hey, you know what real time is?! It's not sitting here wasting my time with you and doing anything at all, that's for damn sure.
And honest to God, I know it's important to meet and discuss and collaborate and resolve and all, but let's get a little more fucking efficient about it.
Because I want to get home to my kids.
Managing a team of people, it can be a struggle to be an attentive manager and a more attentive mother. I don't have a whole lot of time set aside to schedule your team game lunches and team-builder outings, or listen to your personal drama, or give you a high five for showing up to work every day (yeah, I'm talking to you, fellow millennials!). Oops, I didn't realize I was supposed to be the team mom and not your boss. My apologies. Sometimes we ladies get things confused in our heads. But nonetheless, please forgive me.
And honest to God, I know you generally work hard and come through for me when I need you. But someone else is gonna have to bring the oranges after the game.
Because I want to get home to my kids.
I work because at the end of the day, I hope my little girls see that their mother was capable of providing for our family the same way their amazing daddy does, who splits household responsibilities and the care for their well-being with me as an equal partner. (And not because that's the only way and the right way. But because they have options to be whoever they want to be and focus on whatever they want to focus on in life.) Plus, it's really, really expensive to live in New Jersey, and we just can't hack it otherwise, so there's that.
More than anything, I hope they feel the ridiculous love I have for them and how my heart bleeds every minute I work and am missing their moments. And that I treasure the moments I am lucky enough to eek out every day. Enough talking about it though.
Because I want to get home to my kids.
This article was originally published on