I'm A Working Mom, And Every Day I Leave A Piece Of Myself Behind
by Dani Graham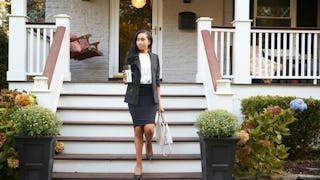 monkeybusinessimages/Getty
Every morning before I leave for work, I cherish sticky, open-mouthed kisses from my 17-month-old daughter, knowing those smooches will be bestowed on loving caregivers for the next ten hours instead of me. My heart constricts when she cries and reaches for me as I walk out the door, knowing when I get home at six o'clock, she will be cranky and nearly ready for bed.
As I drive away, I see her chubby, dimpled hand pressed against the window and I tear up, wishing I could turn back, scoop her up in my arms and spend the day with her.
I am a full-time, working mother. And every day when I go to work, I leave a piece of myself behind.
While working, I accomplish my day-to-day tasks but still wonder what she is up to, how her day is going, and how she's feeling. Is her diaper rash getting better? Has that stubborn tooth finally come in? Did I miss her first steps? Mostly I wonder, does she miss me as much as I miss her?
I go about my routine, attending meetings and conference calls, but still wishing I were home with her watching Sesame Street or pushing her on a swing in the park. I check my watch constantly, counting down the minutes until I'm with her again.
After a long commute home, I see her crooked, toothy smile in the window and it erases all the pain, sadness, and longing that I felt throughout the day. Her excited "mama!" is music to my ears as I envelope her in a big hug that I wish would never end. But inevitably, we rush into our frenzied dinner, bath time, and bedtime routine, compressing a whole day of emotions into an hour and half of chaos. It is exhausting and exhilarating, and passes too quickly.
After she goes to bed, I sip a glass of wine and think about how much older she seems, just in one day. She's got her father's hair and eyelashes, but my stubborn temper. Her baby-like features are fading away, and all of a sudden she's become a toddler. Her language skills seemed to have improved overnight and her personality is growing exponentially. But it's hard not to think about how much of this growth and development I've missed while at work over the last year.
I appreciate the extraordinary opportunities and privileges I've been given as an upper middle class woman in the 21st century, and I am eternally grateful for the sacrifices of all the women who came before me. My grandmothers would have given anything to have the opportunities I have — to graduate from college, to choose from a wide variety careers, and to even out-earn their husbands.
But sometimes, in my darkest moments of the long work day, I wish things were different — that it was feasible to live well on one middle class income.
I am not naive; I know the challenges and heartaches of being a stay-at-home mom too. I was lucky to be able to spend four months at home with my daughter after she was born, and I'm eternally grateful we could spend that time together. I remember what it's like to crave adult conversation and moments alone without another human clinging to you, an endless cycle of laundry, dishes, and picking toys up off the floor. But I didn't mind it.
It just didn't make sense for me to stay at home when maternity leave ended. As the breadwinner of my family, we depend on my salary for at least half of our bills. So I went back to work — a decision that was simple financially, but impossible emotionally.
Somehow, I expected it all to get easier over time. Yet a year after returning to work, I still yearn for more time with her. The emotional mornings, frantic evenings, and always-too-short weekends pass in a blink and I wonder — will there ever be enough time with her?
I know the answer is no. So I wake up each Monday and head to the office with the image of her dimpled hand against the window imprinted in my mind.
This article was originally published on