Viral Comic Shows All The Literal Hurdles Working Women Face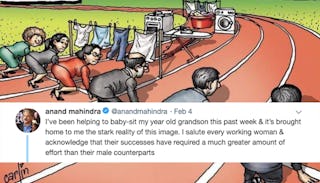 Image via Twitter/Carlin
In case you need a super simple illustration to show how hard it is to have a career as a woman, we've got the comic for you
If you're tired of trying to explain to people (male people) exactly how it isn't a level playing field for men and women at the workplace, there's a new viral cartoon making the rounds that illustrates just one aspect of the hurdles that working women face compared to their male counterparts.
The cartoon gained traction and then went viral after it was tweeted by Indian businessman, Harvard Grad, and billionaire Anand Mahindra.
He wrote: "I've been helping to baby-sit my year old grandson this past week & it's brought home to me the stark reality of this image. I salute every working woman & acknowledge that their successes have required a much greater amount of effort than their male counterparts."
The cartoon's image is simple but striking: It shows three men and three women positioned at the starting line of a track. The men have a clear path ahead of them, but the women are blocked by a never-ending pile of housework, including laundry, cooking, and ironing. And on top of it all, they're in skirts and heels.
The powerful image was drawn by Peruvian political cartoonist Carlin, who draws a regular panel for Peru publication, La Republica.
There's been plenty of evidence that Carlin and his drawing are on to something. A study that came out just this month found that dads are happier than moms when it comes to parenting, and it's because they have more time and space to function as real people walking around in the world and have less responsibilities at home.
Another recent study found that, yep, even though men are picking up the mop more often, women are still responsible for most of the emotional labor in the household, and including work outside the house, put up 98 hours of labor a week on average.
And if you possibly need a third study, this one found that the stresses of motherhood and pursuing a career are so great that the invisible labor that goes into running a household, from knowing your kids shoe size to bringing the dog to the vet, often leads to serious mental health concerns, especially depression and anxiety.
Not to mention that women are expected to do so many things above and beyond their jobs, and when dads do them, they are treated like heroes.
Reactions to the cartoon were – as you might guess – a healthy mix of women showing their appreciation that their household tasks and emotional labor and mental load are seen, and men who were like, "Hey, I did some of the dishes once when my wife was in the hospital giving birth, so men and women are obviously equal."
For example, it only took one dude to drop the #FeminismIsCancer hashtag on the post.
But there were also a few sensible suggestions from women:
And also such an important point from a couple of responders, about how a powerful businessman like Anand Mahindra who is really on our side should show his concern by changing his work policies to help women, such as better parental leave and sick leave policies – and more concrete rules for equal pay and promotion.
https://twitter.com/jetpack/status/1093006462186672128
Also a shout-out to stay-at-home moms who don't even get recognized in the cartoon.
In any case, we love the cartoon and really wish that Carlin's other stuff was more available. Until then, we're going to brush up on our Spanish and head over to his archives.
This article was originally published on