The World's Largest Starbucks Is Opening In Chicago This November
by Julie Scagell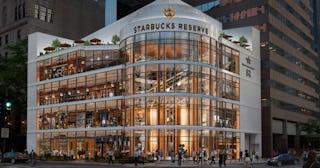 Starbucks
The Starbucks Roastery will open on November 15
Starbucks lovers — rejoice! The world's largest Starbucks is opening in Chicago in November. If all the amazing restaurants, shopping, boardwalk, and museums weren't enough to get you to visit the Windy City, this gigantic Starbucks may just do the trick.
The company announced this week the store will be opening on November 15, 2019 on Chicago's Magnificent Mile. The massive 43,000-square-foot facility will overtake the recently opened Toyko Reserve Roastery as Starbucks' biggest store yet. The space will be four-stories of caffeine, baked goods, swag, and exclusive drinks — plus, an expansive menu thanks to the Princi bakery located inside. The store is, according to Chief Operating Officer Roz Brewer, "inspired by the culture and traditions of Chicago."
https://www.instagram.com/p/BuoXBFNB4V5/
What's more? The store, like Starbucks' other Roasteries, will have a full cocktail menu complete with a mixologist on site. "Having mixology there creates a great entertainment space, and being able to look over the city," Brewer told the Chicago Tribune.
The Roastery will be open 7 a.m. to 11 p.m. Mondays through Thursdays, 8 a.m. to midnight Fridays and Saturdays, and 8 a.m. to 10 p.m. on Sundays so it really will be a place to mingle, read, work, socialize, and get your drink on (whatever that may be) late into the evening.
Chicago is the sixth city to open a Roastery, which they call a "theatrical, experiential shrines to coffee passion." Other cities include New York, Tokyo, Shanghai, Milan, Italy, and Seattle, which opened in late 2014. In Starbucks' initial press release, former CEO Howard Schultz said Chicago held a special place in the company's heart, as it was the first Starbucks location outside Seattle in October 1987.
Even if you aren't a major fan, this store will definitely be one to experience. The store will employ 200 people to ensure a seamless experience for customers. Book your trip to Chicago now — with the store opening right before the holidays you can get everyone on your holiday shopping list knocked off and enjoy some much-needed caffeine time while soaking up all the city has to offer.