Would You Forgive 40K of Child Support Voluntarily?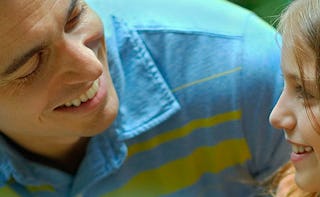 Negotiating visitation and child support with an ex is tricky in the best of circumstances. But what happens when he can't or won't pony up the child support? Do you make him pay by restricting his access to the kids?
Nope, says Kimberly Seals Allers. Writing for the New York Times, Allers describes her ex-husband's struggles to pay his mandated $600 a month in child support and how it has affected their relationship with their children.
Allers describes the child-support situation for divorced families: "We have too often reduced nonresidential fathers to being weighed and judged by a financial transaction. If you don't pay, you're a 'dead beat.' End of one story, beginning of a new one, one that can mean suspended drivers' licenses and professional licenses, seized bank deposits and tax refunds, and the very real risk of jail time."
Children have access to their fathers, or don't, based on the fathers' ability to pay. Allers decided to de-link her ex's access to their kids from his child-support payments—and request support in other ways. When he couldn't pay, she asked him to offer other, unofficial acts of fatherly support: spelling her in child care, making small repairs around the house.
She says, "We focus on money, when 'child support' also means emotional support, academic support and the supportive power of a male influence in a child's life. Negating that value is dangerous to our children. Regardless of what I think of him, my children love their father and doing my part to keep that feeling alive is priceless to me."
So she made the decision to forgive $38,750 in back-child support so her ex could enter the country to attend their daughter's middle-school graduation. (If she hadn't relinquished her claim on the money, the outstanding warrants likely would have meant his arrest.) It was money she was never going to see anyway—he had returned permanently to his native England with his new wife. Allers felt that allowing the specter of debt and arrest to loom over her daughter's graduation was robbing her of her celebration: "My hope is that when my daughter graduates from high school there will be no fear of arrest warrants to stand between my daughter and her happy moment with her father in the audience. It will have been three hours and $38,750 well spent."
This article was originally published on