These 'Wrinkle In Time' Barbies Will Make You Want To Play With Dolls Again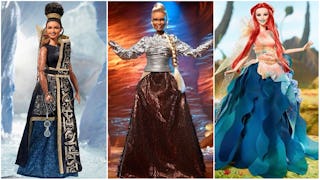 Images via Mattel
The badass witches from a Wrinkle in Time are now Barbies
A Wrinkle In Time, based on the book by Madeleine L'Engle, arrives in theaters March 9, and we couldn't be more excited. As you may recall from fourth grade English, the book was far ahead of its time in terms of powerful female characters that go around rescuing men from the forces of evil. And with Mindy Kaling, Reese Witherspoon and Oprah cast as the powerful trio of Mrs. Who, Mrs. Which, and Mrs. Whatsit, the film offers the type of diversity we need to see more of.
Mattel agrees, which is why together with Disney they've announced the release of three stunning new Barbies based Wrinkle's three witches. Director Ava DuVernay, who's own Barbie as part of the Sheros collection sold out in a snap, shared a peek of the new dolls on Twitter. No damsels in distress here.
"When Disney makes Barbies of your movie's characters and you just want to stare at them all day in disbelief because you loved Barbies as a girl but never had any like these," she captioned the photo.
She's right. Not only is it great to see Mattel offering Barbies in with various skin tones and natural hair, it's important to remember that Mrs Which, Whatsit and Who aren't just dolls, they're warriors who stand up to fight against a great evil. These are more than mere playthings. Dolls like this can inspire our kids to believe that they too can grow up to make a difference in the world.
The dolls will be released for sale on February 23, 2018, but are available now for preorder. With a price tag of $50 each they're obviously not the dolls you let your kids bring into the tub, but the attention to detail clearly shows where the price tag comes from.
Here's Mindy Kaling as Mrs. Who, complete with her glasses.
And here's Oprah, looking fabulous as Mrs. Which. (Also, how is it possible that we made it all the way to 2018 without an Oprah Barbie?)
Last but not least is Reese Witherspoon as Mrs. Whatsit. Witherspoon took to Instagram to call her Barbie alterego "a childhood dream come to life."
From book fans freaking out over seeing some of their literary favs in doll form to those who are loving more diversity from Barbie, it looks like the internet is ready to shell out for these new dolls.
Sorry kids, it's mommy's turn to play.
https://twitter.com/jetpack/status/956382179692392448
Storm Reid, who stars as Meg Murray in the upcoming film, also shared her excitement over the warrior dolls.
Playdate at my place.