Use This Dad's 'X Plan' And Your Teen Will Always Have A Way Out Of A Bad Situation
by Mike Julianelle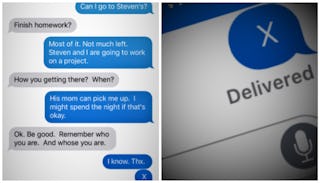 Image via Bert Fulks
This dad devised an ingenious code to help kids escape sticky social situations.
Peer pressure puts kids in tough spots. Often, young people are forced to do things they don't always want to do, because refusing would jeopardize their social standing, and when you're a teenager, your social standing is everything.
This dad came up with a smart way to help kids out of those binds, without losing face.
Bert Fulks is a youth minister and educator at Empty Stone Ministry with three kids of his own. Every week, he spends an hour with teens struggling through addiction, and in a recent session, he asked a simple question.
"How many of you have found yourself in situations where things started happening that you weren't comfortable with, but you stuck around, mainly because you felt like you didn't have a way out?"
Every kid raised their hand. And the dad came up with a great idea.
As Fulks wrote on his blog, he remembers the feeling. "I still recall my first time drinking beer at a friend's house in junior high school—I hated it, but I felt cornered. As an adult, that now seems silly, but it was my reality at the time. "Peer pressure" was a frivolous term for an often silent, but very real thing; and I certainly couldn't call my parents and ask them to rescue me. I wasn't supposed to be there in the first place. "
Now, thanks to his "X-Plan," kids have a simple way out.
Fulks uses it with his own kids, and here's how it works. If his son is in a tough situation he doesn't want to be in, he simply texts one of his parents the letter "X" and upon receiving it, his mom or dad calls him and tells him they need him to come home ASAP. It allows the kid to bail with a bulletproof excuse – his parents are lame! – without raising an eyebrow. Because if there's anything more universal to teenagers than peer pressure, it's uncool parents.
It's a pretty smart idea, but there's one more piece without which the X-Plan can't function: "The X-plan comes with the agreement that we will pass no judgments and ask no questions (even if he is 10 miles away from where he's supposed to be)."
Trust goes both ways (can you tell I'm a dad?) and if we parents want our kids to rely on us, we need to give them a reason to. If we don't, they'll never take advantage of the X-Plan.
Like Fulks, we can all remember times when we were backed into uncomfortable situations, stuck between a rock and a hard place, and with potentially disappointed and angry parents waiting in the wings to boot. The X-Plan offers kids an opportunity to avoid some of those tough spots, and, by offering our trust, allows parents to offer them the help they need in their most difficult moments.
Fulks ends his blog post with a pleas to share his X-Plan. "I beg you to share this piece. If this somehow gives just one kid a way out of a bad situation, we can all feel privileged to have been a part of that."
This article was originally published on