Yelp Is Making It Easy To Support LGBTQ-Owned Local Businesses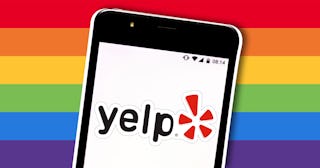 Scary Mommy and Rafael Henrique/SOPA Images/LightRocket/Getty
Ahead of Pride Month, Yelp just introduced a new feature to make it easy to find LGBTQ-owned businesses in your community
If you've been relying on Yelp more than ever during the COVID-19 pandemic to help find and support small, local businesses in your area, you'll surely love the newest features debuting on the app today. Ahead of June's annual Pride Month celebrations, Yelp is introducing a feature that will allow business owners to self-identify as LGBTQ-owned, making it easier than ever for shoppers to support businesses in the LGBTQ community, as well as finding safe and welcoming places to enjoy Pride celebrations all month long.
The new feature will make it simple for users to search for LGBTQ-owned businesses — including beauty businesses like hair salons, nail salons, and spas, as well as restaurant, food and nightlife establishments — through the use of its "Open to All" search filter. Back in 2019, Yelp partnered with the non-profit organization of the same name that aims to protect consumers from discrimination, introducing a search attribute that allows businesses featured on Yelp to distinguish themselves as "safe and welcoming places for everyone, regardless of race, ethnicity, national origin, sex, sexual orientation, gender identity and expression, immigration status, religion or disability," according to Miriam Warren, Yelp's Chief Diversity Officer.
As an added feature, business owners can now opt in and self-identify as LGBTQ+, making it clear to users during Pride Month and beyond that the business is LGBTQ-friendly. Beginning on June 1, LGBTQ-owned and Open to All establishments will be given a rainbow pin on Yelp's map view to indicate a safe and welcoming location for patronizing and celebrating.
Yelp has also committed to "proactively monitoring pages for hate speech against the LGBTQ+ community and will remove any hateful, racist or harmful content that violates our content guidelines," shared Warren in a blog post announcing the updates, with Yelp hoping these tools will "empower millions of LGBTQ-owned businesses across the country and encourage consumers to drive more dollars directly to the bottom line of these businesses."
"As a member of the LGBTQ+ community, we are thrilled to add this new attribute to our business page and make it easier for people to find our business, support the work we're doing, and know that they're in a safe and welcoming space," said LeAnn Mueller, founder of La Barbecue in Austin, TX.
Consumers have clearly been looking for ways to support LGBTQ-owned businesses near them in recent months, with Yelp reporting a 150 percent spike in searches on the platform in April 2021 compared to the same period the year before. Now, members of the community and their allies can show their support for marginalized business owners and help them thrive — a mission that's perhaps more important now than ever as hate crimes across the country continue to rise. So far, more than 581,000 Yelp businesses have noted that they're "Open to All," helping to make things safer and more inclusive for shoppers and business owners alike.