You Can Fake A Photo Of Santa In Your Living Room With These Apps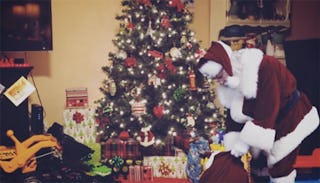 Fake a photo of Santa and win Christmas
The stockings are hung and the Christmas tree is decorated. Now all you need is a fake photo of Santa to prove to your children their parents really do know everything. With the help of tech wizards, you can create the perfect fake Santa snapshot.
On the website Capture the Magic you can upload any photo then drag and drop Santa Claus into it. Santa hanging out at the family beach house – done. The jolly fellow stuffing himself down the chimney – done. You can choose from a variety of Santa poses then resize the old guy, so he doesn't look 10 times larger than the other things in your original photo. It'll cost you $3.95 for one photo, $9.95 for three photos or $19.95 for a one-year subscription of unlimited photos.
If the parent reviews on Apple's App Store are any indication, parents and kids alike are obsessed with the magic this app creates. "The pictures look so realistic," wrote one parent. "What a great new tradition," added another.
If free is more in line with your price range, then head to the Apple or Google store and download the iCaughtSanta Lite app. You can create an endless amount of pics with the three free Santa stickers. There's also a fancier version – iCaughtSanta Pro – that for $10 gets you an unlimited amount of pics with 20 different poses to make it look like Santa's in your house. Imagine how fast the kids will quiet down with their "Santa is fake" conspiracies when you whip out a pic of Santa in their living room. Awesome, right?
Here are some more of our favorite doctored Santa pics that people shared on Instagram.
This Santa needed a break for a quick snack. We feel ya, Santa, wrapping and delivering presents counts as cardio.
Put your hands down, Santa. No one is ever mad about free presents.
The family pup caught this Santa in the act.
Hooray for more pups. This little guy is all: "Forget about the humans. What do you have in that bag for me?"
This Santa looks super professional and dedicated to his tasks.
Awww. This Santa is so happy, which is how your kids will feel when you show them the unbelievable proof that Kris Kringle is real and was in their house. We'd suggest finding a photo from last year and dropping ol' Saint Nick in it. That way you can show the kiddos now and motivate them to be extra good for the rest of the year. The Elf on the Shelf could never get them to behave as well as Santa could.
This article was originally published on