You Complete Me: Single Parenting A Son After His Siblings Leave
by Deborah Copaken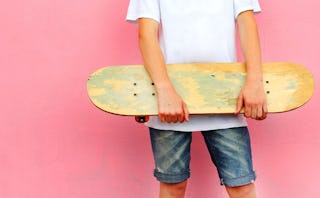 Shutterstock
My caboose child, who is 11 and nine years younger than his brother and sister, turned to me recently with sudden concern. It had just dawned on him that his sister's acceptance to college meant that she would actually be going to college. "Wait a minute, it's just going to be you and me for the next…"—he started calculating on his fingers—"nine years?"
"Oy," I said. "I should have never taught you math."
"Mom!"
I squatted down to his level, looked him straight in the eye. "Yes, sweetie. Unless some Jerry Maguire-type randomly shows up to say, 'You complete me,' it's just going to be you and me. For the next nine years."
"Jerry Ma-who?"
"Never mind. He's a character in a movie. But you complete me. We'll have fun, just the two of us! I promise."
He burst into tears. "But you're so…boring!" he said. "You're always working!"
The last comment stung. Not because it was false but because it was true. I am always working. But for a single mother and sole wage earner in this era of literary austerity, it's the only way to make ends meet. For the first year after separating from my husband, I took in boarders to help pay the rent. My son loved the commotion of our boarders and their various animals, musical tastes and habits. I did, too, until I didn't. I needed quiet to think about how to live the rest of my life. Some stolen solitude, whenever and wherever I could find it. So we scaled back, got rid of our stuff and moved.
I picked him up, held his sinewy body close to mine. He's been through a lot these past two years. The breakup of his family. My illness and concomitant job loss followed by too many jobs for one person to handle. A move from the large house he grew up in into a smaller apartment. A daily pining for a father who lives elsewhere. Some schoolyard bullying. Essentially more stressors than a kid his age should have to deal with. "I promise you," I told him, "I'm going to make our life fun."
Yes, I thought. I would make it fun. The question was how?
One answer came in the form of a skateboard, given to him as a ninth birthday present. He loves that skateboard. With a visceral passion. And it has helped him make the transition from little boy to big boy. Now, every weekend, I make sure to take him out for an hour or two to skate.
Another answer came from the kid himself: "Play guitar with me," he said. "Teach me some chords." Two weekends ago, I taught him "Come As You Are," his favorite song. He had a Kurt Cobain obsession as a 2-year-old, born of watching and re-watching the Nirvana Unplugged DVD every day for a year straight. (Yeah, we thought it was weird, too, but whatever. Kids are weird.) This summer we'll tackle "Smells Like Teen Spirit."
The third answer came in the form of an email from my friend Manuelle, a Parisian friend who was a photographer with me back in the late '80s and early '90s, when I lived in France. Manuelle and I have traded children over the years—a week here, a week there, our own little Franco-American cultural exchange—but now she was writing to say that her son, Mathis, 19, wanted to spend his gap year in the United States. Did I know anyone who wanted a boarder?
"Yes! I do," I said. I told her I'd trade Mathis free lodging and some spending money for his help with Leo's care now that my daughter will be gone. I love the idea of having a male babysitter for him. And I'll need the extra hands, with no family or ex as backup. Plus, now that my daughter's bedroom will be empty, we actually have the room.
The fourth and final answer came out of left field, although it shouldn't have surprised me, having seen my other two go through similar transitions, just never this young. Her name is, well, no. That's his secret to share, not mine. I will tell you only this: She loves to skateboard, she is perfect, and she had him at hello. In fact, ever since this feisty young marvel entered his life, I've heard no complaints about how boring I am. None.
She completes him for now. Not me. Which is as it should be. He has learned the power of love to transform his life from Kansas to Oz, which, in a nutshell, is our job as parents. Yes, we must teach our kids math. Even if they use it against us. We must teach them how to read, how to tie their own shoes, how to fry an egg, how to set a table and throw out the trash and show kindness to strangers, and then, eventually, how to fly away. But mostly we must simply love our children steadily and unerringly so that, when they are ready, they will know how to love another.
"If I teach you guitar," he recently wrote the girl, "you can teach me piano. Keep that trade in mind." The other day, I heard them playing music together and giggling. If that's not love, I don't know what is.
Barring any unforeseen complications, I think the next nine years are going to be just fine for him, not boring. In fact, if anything, I'm worried that they'll go too fast.
This article was originally published on