Powerful Viral Video Shows The Sacrifices Of Motherhood
by Cassandra Stone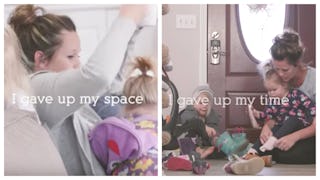 Image via Facebook/StoryOfThisLife
The video is called 'You Gave Me,' and it's going to make you sob
Motherhood is the ultimate sacrifice. Being a present, engaged, hands-on mom is exhausting. Mentally and physically. Sometimes, we don't recognize ourselves because we're completely consumed by motherhood.
If you've ever felt wistful over the independence of your past life, while simultaneously knowing you wouldn't change a thing about being a mom — then this is the video for you.
While I make it a point to not get sucked into the Sacrifice Olympics by focusing on the things I've had to give up for motherhood, the truth of the matter is that we do sacrifice a lot of things. And not just things like manicures or massages or shopping trips — while those count, the loss of the bigger things can actually feel pretty heavy.
This video, brought to you by Esther Anderson of Story Of This Life (and Kleenex, let's be honest) offers some perspective on how we look at what we sacrifice.
Personal space, intimate moments with our significant others, our bodies, sleep, and freedom — to travel, to pee in peace — it all kind of falls by the wayside while we're busy raising our kids.
I was with my husband for eight years before we had our daughter. As the child of teen parents myself, I always knew I wanted my twenties to be about me. The economic crash of '08 coupled with my own selfish desires made this a reality, and I became a mom for the first time at 30. I wouldn't change a single thing about it — but it also means I had an entire decade to be an independent adult.
I'm two and a half years into this parenting thing, and I'd be lying if I said it wasn't hard AF sometimes, knowing my days of traveling on a dime and whim are over, or that going to a new restaurant or happy hour requires weeks of planning and usually don't pan out anyway. Of course, my little girl fills me up in ways I never knew I needed. I love who I am now far more than who I was before her.
All of these types of feelings can exist at the same time.
This video perfectly captures how keenly these losses are sometimes felt, and it validates our feelings, but it's quick to show us why what we give up is nothing compared to what we receive in return. All without being condescending or judgy.
It's the perfect reminder for all of us just in time for Mother's Day.
This article was originally published on