A Young Man's Simple Act Of Kindness Toward An Elderly Person Is Going Viral
by Valerie Williams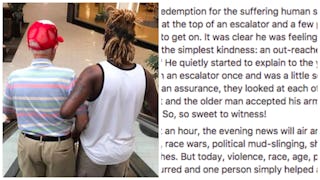 Image via Facebook
He saw the older man looking nervous and decided to help
A young man's kind gesture at a Massachusetts mall is quickly going viral with the person who shared the photo calling the moment, "A little redemption for the suffering human soul."
She's not at all wrong.
When 23-year-old Alonzo Johnson spotted a nervous-looking elderly man standing at the top of an escalator at Holyoke Mall, he didn't hesitate to step in and see how he could help. Fortunately, hospice nurse Paula Accorsi Picard was watching and snapped a photo that the internet can't get enough of.
Accorsi Picard was just getting off the phone when she noticed the friend she was with talking to the older man. "We're both nurses, we're both hospice nurses, not that that matters, but we deal with elderly people all the time," she tells Masslive.
But it wasn't until Johnson walked by that anyone physically came to the man's aide. Accorsi Picard writes, "It was clear he was feeling unsure and this young man offered the simplest kindness: an out-reached arm and a "can I help you on, sir?" He quietly started to explain to the young man that he had gotten stuck on an escalator once and was a little scared."
As a small crowd gathered to board the escalator, Johnson patiently helped the older man as they all waited. "The young man gently offered an assurance, they looked at each other eye to eye for just a moment and the older man accepted his arm. Everyone else remained patient. So, so sweet to witness," Accorsi Picard writes.
Johnson tells Masslive, "I told him — and he did, he looked very nice — I said, 'You look nice.'" No one got the elderly man's name, but Johnson says they chatted the whole ride to help put his mind at ease.
It may have seemed like a fleeting (thought very sweet) moment at the time, but once Accorsi Picard shared the photo, it spread around Facebook quickly. It was also posted on the popular page Love What Matters and in barely two days, the post has been shared nearly 150,000 times between the two.
For Johnson's part, he tells Masslive that the attention for his kind act was not at all expected. "This is something I've never dealt with before and it's so, like, humbling. But it's a lot. But I'm embracing it. It's something very unexpected. My family and I are constantly looking at the Facebook posts and seeing the attention."
Johnson works at a Stop & Shop and has plans to return to Springfield Technical Community College this year to major in sports management. He has hopes of becoming a sports agent, but for now, he's just being the good person his mother raised him to be.
"I definitely believe in God. My Mom has me going to church, but my Mom is the reason for all of this. My Mom always tells us to be nice and do the right thing, you never know who's watching. It's really the way I was brought up and how I was raised," he says. Johnson shares that his mother is loving the attention stemming from her son's viral moment, but we're willing to bet she's loving the proof that she raised a truly kind human being even more.
Accorsi Picard ends her post by perfectly summing up the reason this story went viral so quickly — because we need to hear stories like this.
"In about an hour, the evening news will air and we'll be reminded of division, political mud-slinging, shootings and other heartaches. But today, violence, age, politics and other social lines were blurred and one person simply helped another. I wanted to hug both of them. Whoever this young man is, YOUR FAMILY RAISED YOU RIGHT! THANK YOU! So, please look for the silver linings – as I was so fortunate to witness this evening."
This article was originally published on