Your Kids Are Gonna Freak Out Over This Unicorn Egg Dyeing Kit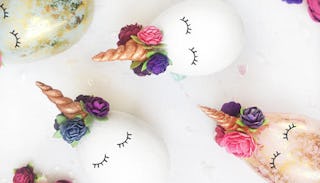 Image via Etsy/Meadowlark Bluebird
This unicorn egg dyeing kit is an Easter must-have
Oh, are you guys annoyed at my constant obsession with all things unicorn? Too bad. Can't stop, won't stop, bringing these mythical horned wonders into every facet of my life possible, which is why I'm so relieved I can turn this year's batch of Easter eggs into the magical pastel creatures I so adore.
Dyeing Easter eggs usually sucks for parents, right? It's messy as hell, you KNOW some will break, there will be tears when the colors don't turn out exactly as they appear on the dyeing kit box, and those goddamn egg stickers never stick (and please don't get me started on that white crayon that doesn't work). Fear not — Etsy shop Meadowlark Bluebird is offering the unicorn egg dyeing kit of your dreams, and once you get your huevos all decorated, you'll think they're too precious to eat.
The kit includes your choice of eggs in either white paper mache or metallic gold pastels, or you can choose "no eggs" and just use the fun stuff to decorate your own. Yes, you can use real eggs, although fake ones can be brought out again next year, but then you'd lose out on the fun of recreating adorable unicorn eggs. I vote real.
You also receive three gold unicorn horns, brightly-colored paper flower decorations, three sets of stick-on unicorn eyes with cute lashes, and adhesive dots to keep everything stuck together.
A freaking bargain at $10.95.
Look at these little lovelies.
Obviously I'm placing an order, and sorry kids, these will be Mommy's eggs.