Just, Why?: YouTuber Family Is Selling Doll Replicas Of Their 2-Week-Old Son
by Madison Vanderberg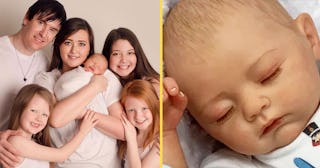 Sarah Ingham/Instagram and Mary Shortle
YouTuber family the Inghams created a Reborn doll to look like their son Jace
Reborn dolls are infant-sized baby dolls that are hand painted by artists to look like real babies. They are wildly popular, so it would make sense that if say, a YouTuber family wanted to expand their empire they might get into the Reborn business. The UK YouTuber family The Inghams did just that, but they didn't just create any old Reborn doll, they made one to look exactly like their son Jace when he was two weeks old. So, that's cool.
The Inghams are a wildly popular YouTube family and have 1.2million YouTube subscribers.
This is their real life baby Jace that the doll is modeled after.
https://www.instagram.com/p/BwwQZifHoSY/
The doll version of Jace is available exclusively at UK doll retailer Mary Shortle, and if you get one, you'll get an invite to "specially organised baby Jace Tea parties " where you can meet the family, including the actual baby Jace.
The family announced that they were expecting…a doll…in a recent YouTube video.
"I can't believe how like him it is," mom Sarah Ingham says in the video. "It's exactly the same. Especially when Jace has his hat on, it's so cute. This is little Jace. There's going to be 250 of these made. That's all. Once they're gone, they're gone."
Naturally, the internet had some…feelings, which we will present here without commentary.
And our favorite comment:
"No hate love you guys, but it's kinda weird." Sounds about right.
This article was originally published on