YouTube Won't Delete The Channels Of An Accused Child Molester -- Who Caters To Tweens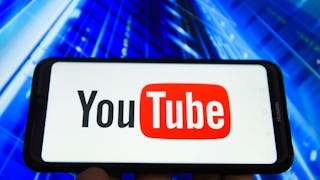 Image via Omar Marques/SOPA Images/LightRocket via Getty Images
The man behind the channel was arrested for molesting one of the tweens who makes videos for his channel. YouTube is leaving his channel up
According to BuzzFeed News reporter Charlie Warzel, YouTube has a deep and ongoing problem with protecting its minor YouTube stars — and they don't seem to be stepping up to the plate to fix it, even in light of sexual abuse charges against one of the site's most popular creators of tween video content.
The story, which Warzel broke on Monday morning, is that the creator of a wildly popular set of YouTube channels for tween girls was arrested for "lewd and lascivious molestation" of one of the teens during a filming. Even weeks after the man's arrest, the YouTube channels, with their millions of followers and billions of views, remain up, while the channels' girl stars have been left in the lurch.
According to the BuzzFeed report, 55-year-old Ian Rylett was arrested in Orange County on August 16, after the minor girl he was filming claimed that he verbally abused her, repeatedly demanded that she undress, fondled her breasts, and tried to remove her underwear. The arrest report also stated that he threatened to fine her if she didn't listen to him.
Rylett, who is the owner of the YouTube channel network SevenAwesomeKids, pled not guilty to the charges and is awaiting trial.
The channel network, which includes SevenSuperGirls, SevenFabulousTeens, and SevenTwinklingTweens, features a rotating cast of girls between the ages of 8 and 18 in short videos. While the videos seem harmless, and do not seem to violate YouTube rules, some, like comedian Daniel Tosh, have raised questions about whether the sites, which often show the girls in swim suits, at sleepovers, or at gymnastics, cater to pedophiles in addition to little girls.
Now, with these serious allegations, more questions are being raised about how these YouTube stars are being treated both on and off set, from whether they're being exploited sexually, to whether they're being exploited monetarily. And on the next level, whether YouTube has any responsibility to protect the rights of these young actors.
Warzel investigated the situation, talking to multiple child actors who had performed on the channel network. While none reported sexual abuse, they did say they had been uncomfortable around Rylett in the past, citing situations when he would make them size down their bathing suits or send him "sizing" pictures of them in outfits for the videos. They also reported he would make jokes about "wardrobe malfunctions" or repeatedly ask them to look younger. He would also shout at the kids, criticize their hair and make-up, and isolate young actors away from their parents.
Many said they were concerned with YouTube's lack of oversight, saying, "I was telling my mom two years ago that, if this was a real entertainment business — you know, with rules — I'd report him in an instant. But I can't because there's nobody here to help me.
Many also said that he may not have been fair with money — the girls were paid monthly, in sometimes wildly varying amounts. It's unclear how much he made from the channels himself. He would pressure some girls to spend their income on lighting and equipment, implying that they would be able to get on a more popular channel if they did so.
Some former performers felt that they may be making videos for a non-tween audience.
"Then some of us started to get the feeling we were being groomed for some darker audience," a former SevenAwesomeKids performer told BuzzFeed. "Things that didn't feel weird at the time — like the themes, the leotards, and the camera angles — started to feel strange. I started to get that feeling especially when you think that some of these girls are 9 years old."
No videos have been posted since Rylett's arrest, and YouTube demonetized the site after the incident. But the channels are still up, and none of the girls who worked for the network have been contacted by YouTube.
The content-streaming giant sent a short statement to BuzzFeed:
"We take safety on YouTube very seriously. We work closely with leading child safety organizations and others in our industry to protect young people. When we're made aware of serious allegations of this nature we take action, which may include suspending monetization, or, upon conclusion of an investigation, terminating the channel," it said.
While Rylett and his channel network are certainly deeply disturbing, YouTube's lack of oversight during the site's existence and their response to the arrest is as well. The child actors have been left unpaid and out of the loop, while many of them reported feeling helpless and with nowhere to report issues, due to YouTube's lack of protections and policies on these matters.
In the meantime, you can do some reading on how to make YouTube safer for your kids.
This article was originally published on