You've Never Been As Happy As This Phone-Stealing Baby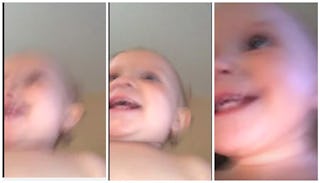 Image via YouTube
Video of baby stealing phone and running away goes viral
A baby stole a phone while video was recording, and we get to experience 11 seconds of pure joy because of it.
We all know our kids are thrilled when they make off with our stuff, we just never knew how thrilled until we saw this.
It's almost like this baby knows he's discovered a new, favorite hobby: stealing his mom's stuff and ruining it. All babies are good at this. And all parents are used to chasing them around, prying stuff out of their little fingers.
Here's a holiday weekend wish for you: may you find something that brings you this much joy.
This article was originally published on