This House Is A Great Deal If You Can Get Past The Fact That It's Haunted AF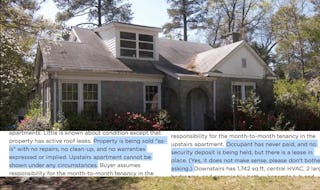 Image via Zillow
What in the HELL is going on with this Zillow listing?
At first glance, this Zillow listing of a home in Cayce, South Carolina seems like a steal. It's a cute little house with an attic apartment and a separate cottage in the backyard — and it's only $130,000, which is substantially lower than most of the homes of the same size in the area.
The only problem? Satan himself is apparently living upstairs and will not be vacating. Or an angry ghost of some sort. That's the only explanation for the way this property is being described.
"Please read carefully before scheduling showings," the listing warns, before describing the property as a great "diamond in the rough" investment. Then this:
"Upstairs apartment cannot be shown under any circumstances. Buyer assumes responsibility for the month-to-month tenancy in the upstairs apartment. Occupant has never paid, and no security deposit is being held, but there is a lease in place. (Yes, it does not make sense, please don't bother asking.)"
Please don't bother asking about the upstairs tenant who doesn't pay, but who also won't be vacating. Don't bother asking about this, either:
He or she occasionally busts through the ceiling, but don't ask. Property comes as is, so we're not fixing it. You won't be able to fix it either, ever — NOW WE'VE SAID TOO MUCH.
Also, don't ask about this:
This is the door to the upstairs attic apartment, that you shall not ask about or ever hope to vacate and OH MY GOD WHAT IS HAPPENING HERE? Is that blood, or spray paint, or both? Why is my heart beating fast?
The upside is there is a nice fire pit in the backyard, and a gold pole you can use to tie up whatever sacrifice this demon tenant requires in order to let you list this apartment on Zillow again, whilst you pray to god someone buys it, forever breaking your curse and freeing you from this horror-cottage.
Oh, there's a little water damage to the ceiling, from whatever the HELL is going on in that attic, but don't worry. This is just cosmetic.
There is a staircase to the upstairs apartment, but never use it, DO YOU HEAR ME?
Oh, and also a lovely kitchen with great natural light:
"Little is known about condition except that property has active roof leaks. Property is being sold 'as-is' with no repairs, no clean-up, and no warranties expressed or implied."
No repairs, no warranties, and don't you ever freaking ask about that upstairs apartment. But all-in-all — great deal!
This article was originally published on