Zoos Are Posting Reviews For Their Animals, And It's Hilarious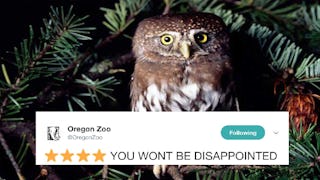 Image via Oregon Zoo/Twitter
Zoos are rating their animals and it's going viral.
The reviews are in for the animals living in Oregon Zoo — and the results are hilarious. The Twitter account for Portland's wildlife mecca is writing up Amazon-style ratings for their inhabitants and (unsurprisingly) people are loving it. Now various zoos and the general public are hopping on the trend, which means that the Twitterverse is pretty much filled with animal hilarity. In conclusion, life is finally good.
The whole brilliant review system got started when Oregon Zoo's Twitter account announced that it was Friday, and thus, time to rate some species.
First up was the otter, which pulled in a pretty solid score — despite the fact that it only comes in one color. "Overall very good first impressions," Oregon Zoo noted. "Sturdy built, totally winter-ready and waterproof."
Over in the bird category, the owl really impressed with style and sound volume. Four stars.
It actually appears that every single one of the Oregon Zoo animals are clocking in at a sturdy 4 stars, as they damn well should. No returns here. You will get what you paid for.
Also, can we please just appreciate the sheer adorableness of this TINY TURTLE. 1,000 points to Gryffindor for this one.
Pretty soon #rateaspecies caught on big time. Monterey Bay Aquarium jumped on board, giving their octopus a solid four stars, along with lots and lots of thumbs up. "Love that it fits any space. adjustable color to match your mood/location. extremely grippy base," the review read. "ink included, but stylus sold separate if you need that go with the squid sizes. note: don't pair with another or they stop working."
Annnnd then the rest of the Twitterverse came along for the ride. They were a little more critical with their reviews.
"Very unsatisfied with the shipping," one person wrote. "I ordered a frog and what I got was this big melted pile."
Another unhappy customer noted: "I ordered a duck, otter, and beaver bundle apparently there was some kind of freak accident in shipping or something. Contacted shipper, they claim no error. Bad seller. NEVER BUYING AGAIN! #rateaspecies."
So, so glad that animal reviewing is a thing now. Also, we should all probably go to the zoo immediately so we can have some actual one-on-one time with all these adorable creatures (especially the tiny turtle).