Zuckerberg Shares His Baby's First Steps And Gives Us All The Best Idea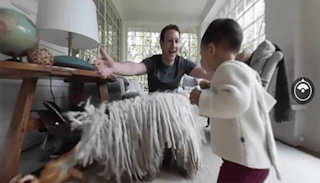 The founder of Facebook uses hot new tech to capture his baby's biggest moments, and so can you
Leave it to one of the architects of the social media revolution to introduce us to another great way to connect with friends and family, and hang onto our most precious memories.
Mark Zuckerberg, the founder of Facebook, recently posted a video of his baby daughter walking, but it's not just any video. It's an immersive 360 video that allows the viewer to experience the entire heartwarming scene.
Gone are the days of Polaroids and camcorders. Now if you want to capture holiday memories or parenting milestones, you probably just whip out your phone. But even a real-time photo, or a quick video, or a Facetime session can leave a little something to be desired, especially when you have a toddler who refuses to sit still and actually stay on screen for Grandma!
Mark Zuckerberg took to his Facebook feed (duh!) to showcase the latest way to share those memories, and let the people watching feel like they're actually there with you. It's all part of his transparency as a parent, including sharing with the world the story of he and wife Priscilla's struggle to get pregnant. He also used his very own social media tool to show off Max when she was first born.
Now, he's letting us in on Max's milestones in a very cool way. It's called a 360 video, and he used a Facebook post of his adorable daughter, and their walking-mop of a dog, to demonstrate it.
Zuckberberg points out the differences between then and now in his post.
"When I was a baby and took my first steps, my mom wrote the date in a baby book. When my sister's children took their first steps, she recorded it with photos and videos. When Max started walking, I wanted to capture the whole scene with a 360 video so our friends and family can feel like they're right there with us. Here it is!"
Whether you have kids who are starting to walk and talk, and relatives who can't be there to witness every milestone in person, or just want to capture some special holiday moments, 360 video is a fun new way to make sure that everyone has a chance to see it happen. And feel like they were there.
I don't know about you, but I can't wait to send my engaged brother a few 360 videos of my baby waking up at four in the morning and screaming bloody murder until I wander in like the walking dead to retrieve him. And to send my parents some adorable footage of my six-year-old going berserk when I tell him he has to turn off the iPad they got him for Christmas. I want to make sure everyone without kids knows what life is truly like with children, and I want to immerse my parents in the very hellscape they've created for me with their overzealous gift-giving.
But don't worry, you don't have to use it for spite! But you do need to get a spherical camera that can capture a 360 image. The Facebook help page has info, and some suggestions.
It's a pretty cool idea, and the way the resulting video allows you to drag the image around in order to see it all is a fun, interactive way to engage with your memories. Gone are static photo albums with forced smiles, now we can capture the entire tableau, warts and all.
The future is now, and thanks to the exciting technology it's brought us, it's making the past more fun than ever.
This article was originally published on