Woman Tries To Return A Coat She Bought Online, Store's Response Goes Viral
by Ashley Austrew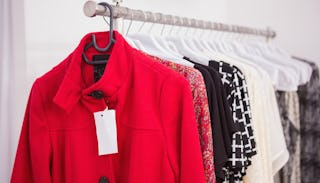 This woman was amazed at Zulily's generous response when she tried to return a coat.
It's not every day you hear a positive story about customer service, but this one definitely breaks the mold. A Zulily customer is praising the company after they encouraged her to donate her returns to charity, instead of sending them back.
Kelly Kinkel posted on Facebook last week that she'd ordered a coat from the online retailer, but as soon as she got it, she knew it wouldn't work. She writes, "When I received my order, I could see through the packaging that the coat material wasn't going to work well with the two breeds of dogs we have. Coarse dog hair and certain materials don't mix." She called customer service to ask how to return the coat, and instead was met with this unexpected response:
"I spoke with a sweet young man named Patrick, and he let me know he would refund my money immediately. I asked again how to send it back, and he said, "Please don't send it back. If you know someone who needs a winter coat or if you would like to donate it to a charity, that would make us very happy."
Kinkel says she thought the man was kidding for a second, but when she realized he wasn't, she was amazed. "I just don't know other companies that do this," she wrote. "I thought Zulily was pretty incredible before, but after today, I'm a customer for LIFE. The world needs more LOVE like that. Honest business. Honest ethics. How refreshing!"
Since her post went up, it's been shared almost 24,000 times. Surprisingly, many others have commented saying they've had similar experiences with Zulily and other online retailers. Wrote one, "I had a similar experience with shoes and Zappos. I tried to return some shoes and they told me to just pass them along to a family in need." It's amazing to think there are so many retailers out there being so generous.
Zulily buys items in bulk and sells them at a discount through daily deals, so it's likely they don't have customers mail things back simply because enough time has passed that they can no longer turn a profit from the items. Still, it's incredibly refreshing that they encourage customers to donate those items. That's not something they have to do, and it's a great way to remind people to do some good when they might not otherwise think of it.
There are a lot of retailers out there who make it incredibly difficult for customers to return things. It's nice to see one that not only makes the process stress-free, but also attempts to steer their customers towards helping people in need.