10-Minute Ab Workouts You Won't Totally Hate And Can Do At Home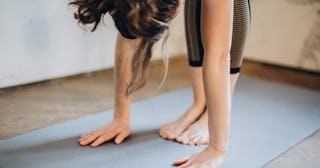 Elly Fairytale/Pexels
If you're someone who actually enjoys exercising, mazel tov (also, we're jealous). As much as it (sometimes literally) pains us to acknowledge, moving your body is an important component of being and staying healthy. The point isn't to try to achieve a certain body type or fit into your old jeans from college (trust us: just retire those — they're not helping anyone), but really just to keep ourselves functioning as humans. And while that all sounds great in theory, when exercising isn't a normal part of your routine, it can seem hard to squeeze it in.
RELATED: Let's Get Physical! What Postpartum Workouts Are Safe After Giving Birth?
Maybe you'll try getting up extra early one morning and going for some sort of a walk or jog. But then your alarm goes off and that never happens. Or perhaps your plan is to get in a workout after the kids go to bed. Nice try, but your eyes are barely open at that stage, you're really good at convincing yourself that the healthiest thing for your body is more rest. The way around this, is to find short, not-horrible ways to exercise that you can do at home whenever you have a few free minutes. Here are some 10-minute ab workouts to get you started.
10-Minute Ab Workouts
Anywhere Abs
OK, this one isn't even a full 10 minutes: it's only eight minutes. But don't get us wrong, those eight minutes will put you through a workout. This routine comes from Instagram fitness influencer Kayla Itsness, and involves doing 30-second reps of seven different ab exercises.
Weights Optional
This 10-minute ab workout from Instagram person @MaddyHolleyy (who focuses on IBS and health/exercise) not only includes a cute picture of a dog, but gives you the option of doing it with or without a weight for extra resistance.
Perfect for Travel
Only have 10 minutes? Then @fit_yogamom as just the workout sesh for you. You can either do it on its own, or add to the end of a different workout.
Perfect for Beginners
Fitness trainer Pamela Reif has a lot of short workouts on YouTube, but some are more advanced than others. This quick ab workout should be possible even if you're just starting out (or if it's been a while since you worked out).
Standing Ab Workout
So, technically this one from PopSugar is only five minutes, but if that's all the time you've got, it's definitely better than nothing. You can also do this one twice in a row if you want to do the full 10 minutes. (Though we should point out that the "flat belly" mention in the video's title is gross and no one should feel pressured into having a flat belly, especially since no one's belly is totally flat thanks to belly buttons. The end.)
Burn to the Beat
Looking for something a little more high-energy? This cardio dance abs workout from BeFit may be just what you need to get your blood pumping. Plus, it's fun enough for the kids to maybe want to join (which gives you the chance to exercise and keep them occupied at the same time. Double win.)
At Home Abs and Obliques Exercises
These 10 minutes go quick with not a lot of rest in between sets and exercises but the best part of this workout is that it uses only your bodyweight so no equipment necessary.
Lower Abs Workout
Wellness influencer Maddie Lymburner has put together a quick but intense lower ab workout designed to target the stubborn lower belly area. Plus, since it doesn't require any equipment, you can do it just about anywhere.
Standing Abs Workout
There are several benefits of trying out this standing abs workout. For starters, you don't have to worry about making sure you have a yoga mat. More to the point, though, it's part of a greater 25-day program that'll help strengthen your thighs and legs, increase your stamina, and work on your pelvic floor.
Workout Quotes
Need a little more inspiration to get your perspiration on? These workout quotes will pump your motivation level through the roof.
"What seems impossible today will one day become your warm-up." — Unknown
"Going to the gym is great for your body, but it's also great for your mind." — Rory McIlroy
"If it doesn't challenge you, it won't change you." — Fred Devito
"Train hard, turn up, run your best, and the rest will take care of itself." — Usain Bolt
"If you ever lack the motivation to train, then think what happens to your body and mind when you don't." — Shifu Yan Lei
"Do something today that your future self will thank you for." — Sean Patrick Flanery
This article was originally published on