10 Reasons HGTV Is Officially Bonkers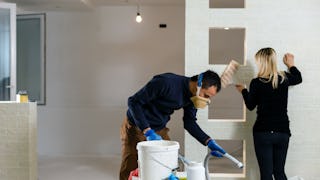 Sinenkiy / Getty
I definitely have a love-hate relationship with terrible reality television. And HGTV is crappy-TV porn at its finest.
The Bachelor just doesn't do it for me these days. And I think that's because the majority of moms fantasize about making over our home more than anything else (besides sleep, obviously). We all secretly want to rip up our stained carpets with the hope that there is flawless hardwood underneath. No thanks, fantasy suite, what I really want are the stainless steel fantasy appliances. Spare me the couple who wants to find love and give me the couple who's moved on to the next step: Fighting about square footage.
I want to live vicariously through these people as I sit on my outdated couch and dream about the future. A future that includes shiplap and vaulted ceilings and children who, with any luck, have gone away to college.
But I think I speak for everyone when I say that HGTV has lost its chill, and these GIFs prove it:
1. Pretty sure the fact that couples have to disagree is written into their contracts.
Love It or List It, aka One Of These People Will Definitely Hate It.
2. And their budget never makes sense for what they do for a living.
Take this couple who probably herds goats for a living but mysteriously have all this money to spend on a home.
3. The people on Tiny House Hunters ALWAYS complain about how tiny it is.
Fun drinking game: Take a shot every time someone complains on House Hunters. HAHA, just kidding, don't do this. You'll die.
4. The people who want something specific even when they don't know what it is.
The granite countertops obsession is overrated, anyway. And don't even get me started on backsplash tile.
5. I don't need a smart home, I just nee–OH SHIT SECRET MARTINI BAR.
6. Shiplap. Everywhere.
7. Although the demolition does look therapeutic AF:
8. Too bad Chip and Joanna are too damn adorable to be real.
Don't get me wrong, they're adorable. But you know when something is too sweet and makes you feel slightly ill. They're also that.
9. On second thought…
10. But no one will ever match the creepy factor of Jonathan and Drew.
I don't know what that's a promo for, but I know I don't want it.
In fact, the most honest thing about HGTV might be the couple from Flip or Flop who's getting divorced. After all, that's what I'd have to do if I tried to renovate homes with my husband all day, every day. There, I said it.
This article was originally published on