20 Science TV Shows And Movies To Watch With Your Kids
by Elizabeth Broadbent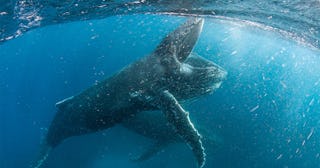 Netflix
If you're like me, before you started homeschooling, your educational TV-viewing consisted mostly of Wild Kratts, Octonauts, and Magic Treehouse. But there's a host of other options out there if you have access to streaming services (Netflix, Amazon Prime, Amazon's Curiosity Stream, and Disney Plus — even YouTube). Still, it can be hard to tell what your kids will watch, what they'll walk away from, and what's even scientifically accurate. Well, we've got you covered. While you've got the kids at home, here's some quality science TV to beef up their education — and keep them interested.
Yeah, we stretched the definition a bit. But they're good stretches, and guaranteed to keep the most reluctant interested.
The Universe (Netflix):
The Universe examines extraterrestrial phenomena, from the sun to the moon to Jupiter to black holes, and includes the search for alien life. While it's rated M-14, that's mostly because younger kids may not be interested. My 8 year-old had no problems.
Planet Dinosaur (Amazon Prime's Curiosity Stream, requires extra $5.99 subscription that's well worth it for the science)
Planet Dinosaur is my kids' favorite science TV show, hands-down, no question. It runs through all different kinds of dinosaurs, eras, and epochs. Parents will love it until it plays itself to death; kids will never stop being mesmerized.
Mankind, the Story of All of Us (Amazon Prime)
Mankind, the Story of All of Us, takes us from hunter-gathers to the present, with stops about farming, ancient Rome, the Industrial Revolution … 12 hours worth. It sounds deadly boring. My kids love it for the interesting storytelling, which makes it assuredly not deadly boring.
Nova (Amazon Prime)
Remember Nova? It's on Amazon Prime now. Peak science TV.
Our Planet (Netflix)
All about the natural beauty. All about climate change. Our Planet can get harsh at some times, so parental guidance may be needed for this one. But worth it for the stunning visuals and yes, for the education on climate change. Also narrated by David Attenborough, and science TV + David Attenborough = freaking awesome.
Night on Earth (Netflix)
Brand-new, Night on Earth examines the nocturnal world, from the jungle to the sea to the city. It's rated TV-PG (my 6 year-old had no issues), and narrated by Emmy-award winning actress Samira Wiley.
America's National Parks (Disney Plus)
America's National Parks deals with eight of America's grandest national parks in honor of their 100th anniversary in 2015, including Yellowstone, Yosemite, the Grand Canyon, and the Everglades. TV-14, but again: this is probably based on interest level rather than anything else. My 6-year-old wandered off, but my older two, at 8 and 10 years old, were content to sit and watch.
One Strange Rock (Disney Plus)
Every thought of looking at earth from the perspective of an astronaut or an alien? One Strange Rock documentary does. Plus it's narrated by Will Smith.
Lost Cities with Albert Lin (Disney Plus)
Radar. Scanning. Real archeologists. Plenty of CGI. Plus Albert Lin, all looking at cities still stuck under the ground. We are so there for Lost Cities with Albert Lin. Plus it's got more than one season! Your older kids will eat it up.
The Brain Scoop (YouTube)
Free science TV! The Brain Scoop is a behind-the scenes look at different facets of history, science, and museums themselves: why did King Tut have a flat head? How does taxidermy work? What about lasers? Squeamishness factors (human biology collection?) is clearly labeled, and it's run by the Chicago Field Museum.
A Plastic Ocean (Netflix)
Super true, super-depressing facts about what plastic is doing to our oceans. A Plastic Ocean is kind of a must-watch. My 8- and 10-year-olds were riveted, and it led to some great discussions. My 6-year-old wandered off. Warning: you will be fairly appalled.
72 Cutest Animals (Netflix)
Good for the youngest with the shortest attention spans, 72 Cutest Animals actually does contain information about how cuteness contains information that helps animals survive. Or something. Whatever, it's got animals in it, and they can learn that they exist on this planet. It's a step up from Wild Kratts, okay?
No Impact Man (Netflix)
A man and his family, in the middle of New York City, try to live with no environmental impact whatsoever for an entire year, and encourage other people to do the same. No Impact Man is not strictly science TV, but it does make kids think about how much waste we produce, and how we can try to eliminate, which is a good thing to think about when we don't want to go to the store and we're trying to reuse the resources we already have.
The Flood (Disney Plus)
OMFG, my kids love The Flood. It's about the annual floods in the Okavango Delta and how animals adapt both when it's flooded and when the waters recede. Full of "classic" African wildlife like hippos, lions, and leopards, the wildlife will holds littles' attention while the bigs are fascinated by their adaptations.
Free Solo (Disney Plus)
Yeah, we're stretching science TV here, and Free Solo is more for the bigger kids than the little ones. How do you climb El Capitan without any support whatsoever — no ropes, no safety net, nothing to catch you if you fall? Riveting documentary that will capture the attention of the most reluctant member of the fam.
Jane (Disney Plus)
Jane is a whole documentary about one of the most important woman in science (girls in STEM!) who spent her life researching one of our closest relatives. A biography about a woman who did groundbreaking science, important for both girls and boys.
Heavy Water (Amazon Prime)
Yeah, we're stretching science TV again when we recommend this documentary on big wave surfing, though it does get into ocean currents and the hows and whys of big wave formation. Heavy Water is recommended for older kids, simply because younger ones won't care.
Sled Dog Soldiers (Amazon Prime)
1915. Two French soldiers have to bring 450 sled dogs from Alaska and Canada on a super-secret mission before the freshwater rivers freeze over. It shapes the outcome of WWI. Sled Dog Soldiers is for older kids, because, y'know, war and all. More history than science TV.
Dancing with Birds (Netflix)
In Dancing with Birds, Steven Fry narrates a funny look on bird courtship that's TOTALLY PG.
This article was originally published on