10 Things I Learned After My Divorce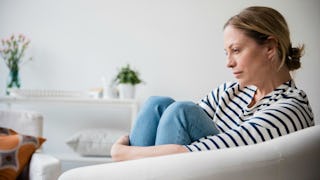 GettyImages- JGI:Jamie Grill
Just over a year ago, I sat in the exact spot I'm sitting right now, not knowing what my future would hold. My husband was about to move out, we were on the verge of telling the kids their parents would no longer be living together, and I honestly didn't know how I was going to show up for myself, or my children, in the coming year. I was devastated, and terrified.
But here I am a year later, and this is what I've learned:
1. I am stronger than I thought I was.
I can tackle home projects. I know how to fire up a generator, snowplow my driveway, clean my roof and fix my dishwasher. I went out for the first time in almost 20 years and bought a car, all by my damn self. I even brought my kids with me to show them how it's done. And while I don't need a man to do chores or to rely on, I found a trustworthy handyman who will come take care of things, like when my fence blew over in the last storm we had. Guess who suggested him? Another single mother who knows how to get shit done. I learned I can do a lot of things, yes, but just because I can doesn't mean I have to if I feel like I'm spreading myself too thin. There are people who want to help, you just have to put yourself out there and ask for it. Is asking for help a sign of strength? You bet your ass it is.
2. I am capable.
A huge fear women have while going through a divorce is, Can I handle it all? The answer is yes. That doesn't mean it's always easy. It doesn't mean you aren't going to fumble and fuck up. It doesn't mean you don't greet some days with a gripping fear you aren't going to manage it all, but you will. You find a way. Women are the most amazing multi-taskers to ever walk the planet, so we find a way. And if that means you wake up early, or stay up late, to get the bills paid (bills you pay yourself with your paycheck), catch up on work, or teach yourself how to replace the toilet seat from a YouTube video, you do it.
3. Friends are GOLD.
Old ones, new ones, old friends that are new again–you need them. They want to be there for you, they want you to lean on them. Find your tribe whether it's one bestie, your sister, or a group of old friends who have gone through a divorce, too. Don't isolate yourself, and don't worry about being a burden. Speak up, and let them validate and support you.
4. Giving yourself things to look forward to is a mood-booster.
This is a must. I'm not talking about trying to stay high on something all the time to forget your sorrows, either. I'm talking about planning little things to get you through those hard days, and keep you grounded. Go out and buy a new polish, then take a night to soak in the tub and paint your toes. Make time to call a friend. Get takeout from your favorite place when your kids are with your ex-partner. Grab a coffee and take the long way home. Take the time to do this, even if you are feeling like you can't keep up with the daily grind. You need to stop and put some effort into yourself, if you are going to do this thing with your best foot forward. Believe me, it's has been my saving grace.
5. Doing something you've been putting off is empowering.
I don't care if it's something small like rearranging your closet, taking a spin class, or something huge like going hiking for a week solo. If you've always wanted to do it, now is the time to start reinvesting in yourself. There is nothing like accomplishing something you've been thinking about for years. And if you do it once, you are bound to make it a regular thing. While I was married, I always wanted to host more parties, but I never did. I have no idea why — it was no one's fault but mine. Now I try a plan a party or gathering every few months, and invite all of my favorite people, and I love this new addition in my life.
6. Crying doesn't make you weak.
You will be doing a lot of it, so brace yourself. It's okay, it's normal, you gotta let that shit go. And I am strong believer you can let your kids see you cry too. You can tell them you are sad, or having a bad day. It's okay for them to see you are human. It doesn't mean you are off-loading your problems onto them.
This year, while decorating our Christmas tree, I cried with all my kids. I was sad, and they were sad too, but we had a group hug and talked about our feelings and new traditions. That is what they will take with them: that it's okay to be sad and feel certain emotions when you least expect it. The important thing is you address it, then move forward. You don't stuff it, you don't hide it, and, for fuck's sake, their mother is not a damn machine with a stone face who is numb to emotion because she isn't married to their father anymore. They appreciate being able to see my emotions surrounding this tough transition. Crying makes you a badass, it's a beautiful release and I don't want my kids thinking anything different.
7. Spending time alone is essential.
You need to get to know yourself again. Sit alone, listen to your thoughts, watch your favorite movies, eat alone, talk to yourself, read, dance — whatever it is, do some of your favorite things solo. If you fill all your free time up (I know it's tempting), by spending it with other people, you are going to lose touch with yourself. And guess who you need now more than ever? You. Don't shove her away just so you don't have to sit and feel the pain. You will never get through this, and go through what you need to, if you don't give yourself the space and time to do so. I'm not saying to isolate yourself, I'm saying to carve out a bit of "just you" time each week.
8. Letting go is freeing.
The hardest thing for me was letting go of the life I thought I was going to live. I felt guilty my ex and I went off-script and we weren't going to grow old together, even though we are both much happier with our new arrangement. It's confusing as fuck, so let go of that guilt and shame. It's sucking your energy, and not serving you in any way. Let it go; do it for you.
9. A vibrator is a great investment.
You might not think you want one now, and sexy time may be the last thing on your mind, but I can assure you just because you are no longer married it doesn't mean you won't crave a good orgasm — you will. It's a wonderful thing when you can provide them for yourself when and where you want. Whether you are dating or not, this is a new chapter in your life filled with new experiences and feelings. You just may feel the urge one morning after a delicious sleep and you are going to want something that you can control and does you right.
Hell, maybe you weren't having sex before, and now you're ready to stoke the fire again. Do you, babe.
10. You've got this.
Sure, you will have moments, days, or even weeks when you don't believe this, but you do. When you are struggling, stop, then look at the big picture. Realize how far you've come. Think about how strong you have been to get to this point. Give yourself a break and the credit you deserve, and realize you are going to get through this current clusterfuck. You always do. If you still can't believe it, call a friend or someone who will set you straight.
I know this might be one of the most difficult things you've ever had to endure, and you may not be sure that there is any light at the end of the tunnel. I've been there. Divorce breaks you down and leaves you open and raw. But the wonderful thing about going through hardships is it's impossible not to find a stronger, braver, more beautiful version of yourself waiting on the other side — now, it's your turn to go find her.
If you enjoyed this article, head over to like our Facebook Page, It's Personal, an all-inclusive space to discuss marriage, divorce, sex, dating, and friendship.
This article was originally published on