10 Things To Do In Santa Cruz With Kids
by Frankie Laursen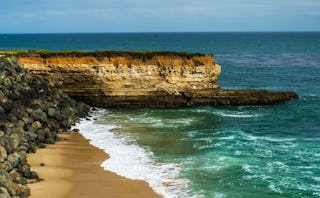 One of the great things about the San Francisco Bay Area is how close it is to Santa Cruz— where you can see surfers, butterflies, and passing whales. This, and plenty more, make Santa Cruz a great place to visit with kids. It's a fun and incredibly scenic spot for family visits. Here are my recommendations for the top things to do and see in Santa Cruz with kids.
Best Places to Stay in Santa Cruz
There are charming places to stay with kids in Santa Cruz and the surrounding areas. If you're looking to add to your hotel reward points (free hotel room for another trip w out the kiddos?), the Hotel Paradox is surrounded by majestic mountains and the Santa Cruz Scotts Valley is right near California's Mystery Spot.
If no hotel is kid-friendly enough for you, and you need your own house or apartment (mini kitchen? kids get their own bedroom?), Airbnb has some of our all-time favorite Santa Cruz spots — from a Redwoods Retreat to an ocean front cottage to a modern 3 bedroom ocean view townhouse.
How to Get Around Santa Cruz
There's so much beauty to see in the Santa Cruz area. Unless you've got your own vehicle, you'll be needing a car. Hertz has pickup locations throughout town.
Best Experiences in Santa Cruz for Kids
We know you used to enjoy lounging on the beach all day, but let's be realistic and accept that you're with kids and kids need a plan. Put down their tech devices (and yours) and plan a few special experiences that are unique to Santa Cruz. Everything from catamaran sailing to hiking the lush forest to foraging food with a naturalist can be booked beforehand.
1. Santa Cruz Boardwalk and Beach. The Santa Cruz Beach Boardwalk is extremely family-friendly. I really appreciate that there is no smoking allowed, and the security staff politely, but firmly, enforces it. There are rides for young kids through adults. The minimum height for most of the rides is 34″ tall. Even if your child is shorter than that, there is at least the carousel. If you can come back a few times, I highly recommend buying the 50 pack of ride tickets because they never, ever expire. The food is of course a bit pricey, but at least it's all kid-friendly. We usually hit the boardwalk, eat lunch, then head out onto the sand to build sand castles. The water is too cold to swim in without a wetsuit, but it's quite nice to dip your feet in on a warm day.
2. Seymour Marine Discovery Center. Don't miss the Marine Discovery Center tour (free with admission) which includes two whale skeletons, the center's resident dolphins and seal, and a beautiful ocean view. On a clear day, you can see Monterey. While you're waiting for your tour to start, you can check out the exhibit hall, which includes historic photos of the area, an invertebrate pool where you can touch starfish, hermit crabs, and sea urchins, a shark pool where you can touch swell sharks, and aquariums filled with eels, sharks, and jellyfish. My kids' favorite thing at the center were the sculptures of an elephant seal family out front. Visitors are welcome to sit, climb, and lie down on the sculptures, which get nice and warm in the sun. Be warned, it can be quite windy, so bring layers.
3. Natural Bridges State Beach is my favorite beach in Santa Cruz. Between mid-October through January, as many as 100,000 monarch butterflies congregate in the park's Monarch Grove. When I first saw the butterflies, I couldn't tell what I was looking at because they form huge, long clusters. There's a visitor's center that highlights local natural history and sells butterfly-themed books and shirts. A few times I've been there, they also had monarch butterfly chrysalides for kids to see up close.
The beach is clean, usually warm, and has a small lake that feeds into the ocean. My kids can spend hours building sand castles and canals there. Just a short, easy climb up some rocks and around a corner, there are tide pools full of small crabs, snails, mussels, and sea anemones.
4. The Santa Cruz Museum of Natural History is small, but jam-packed full of cool things the kids will love. Locally known as 'the Whale Museum' because of the climbable whale that lies beside it, it's one of the oldest museums in California. Founded in 1905, the museum houses an extensive collection and regularly hosts fun exhibits and tours. If you have any budding ecologists or history fans amongst your little ones, this is definitely a must-visit.
5. San Lorenzo Park and Laurel Park have great play areas for young and slightly older kids. San Lorenzo Park also has a duck pond. Laurel Park has a laundromat with a cafe just across the street in case you forget to dry your kids' swimsuits the day before, like we did.
6. Be sure to check out the children's section in Bookshop Santa Cruz, an independently-owned bookstore. There's a preschool story time on Wednesday mornings, a wide variety of educational toys, and a comfy nook to hang out in while you read to your kids.
7. Need some sweets? Downtown Santa Cruz is centered around Pacific Ave; be sure to pick up some cookies from the Pacific Cookie Company (I highly recommend their Mint Condition and Dark Chocolate Cranberry cookies) It feels like every other store sold ice cream, but I highly recommend the Penny Ice Creamery and the Mission Hill Creamery. If like me, you need to get your last ice cream fix in minutes before you get onto the freeway, you should stop at Marianne's Ice Cream. Be warned, my husband had the apple pie there, and it was really, really bad, I'd recommend sticking with their ice cream.
8. You can catch the train from the boardwalk and head up into the redwoods to Roaring Camp Railroads and see a beautiful view of the San Lorenzo River. If your kids are into Thomas the Tank Engine, check out "A Day Out with Thomas", which includes riding in a car pulled by Thomas himself, meeting with Sir Topham Hatt, and tables set up with model trains for kids to play with.
9. Family-friendly Restaurants. Eating well isn't usually cheap here, and you do better for paying a bit more. I want to eat everything at Kelly's French Bakery. A great all-vegetarian restaurant is the Saturn Cafe. Be sure to check out Mobo Sushi where you can "Roll Your Own" sushi.
10. Come defy gravity at the Mystery Spot. Take the 45-minute tour to watch a ball appear to roll uphill and see inexplicable perspectives where a very tall person can appear significantly shorter than a short person. The hill is a bit steep, so younger kids might need to be carried or firmly pushed. Unfortunately, strollers are not allowed on the tour. There are also hiking trails, a canteen that's open on weekends and holidays, and beautiful gardens.
Best Things to Pack For a Trip to Santa Cruz
This vacay will be spent, it seems, chasing your kiddos around in one of two places: outdoors at the beach (which will be fun until one decides its hilarious to scare the shit out of you by running into the ocean unsupervised… on repeat) or indoors at a museum or bookstore (please, please don't break anything…). Your wardrobe should be prepared for both! You'll need comfortable, sand-friendly Birkenstock's for mom and Native water friendly shoes for kids. And since your little monsters will, inevitably, get water in or around your phone, be sure that's protected with a water-tight phone case; bonus points if you also have a waterproof beach bag and a travel-safe, RFID-blocking wallet on hand. Other necessities: a super chic picnic blanket (for grass or beach), an easy cover-up sweatshirt dress to throw on over your swimsuit when the temps begin to drop late afternoon and, of course, a sporty travel camera to capture it all. And always a few beach toys like flying discs and a portable beach sand set to keep them busy when you do hit the beach.
Got more tips for things to do in Santa Cruz with kids? Leave them in the comments!
Although we only recommend picks we really love, we may earn a commission on purchases made through links from our site.
This article was originally published on