11 Celebrity BFFs We Can't Get Enough Of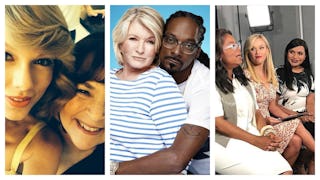 Instagram/Ina Garten / VH1 / Instagram/Mindy Kaling
There is no one in your life quite like your best friend. Your true blue, the one who knows where all the bones are buried (and would likely be your accomplice if shit goes down.) It is important that your bestie be someone who supports you through anything in your life, and is there for you when you need them.
Celebrity best friends are just like regular best friends, they just have more money and a larger platform. So often, their relationships with each other remind us of our relationships with our own friends.
Friendships come and go — for celebs and the rest of us — but these duos are here to stay.
Jennifer Aniston and Courtney Cox
These two have been besties for over 20 years now, going all the way back to their days playing BFFs Monica and Rachel on Friends. Jen is actually godmother to Courtney's daughter, Coco.
Michelle Williams and Busy Phillips
Best friends since they co-starred on Dawson's Creek together, Michelle and Busy have proclaimed that they're "soulmates." And they're probably right. #bestfriendgoals
Eva Longoria and Victoria Beckham
When Eva got married a couple years ago, her bestie and clothing designer extraordinaire, Victoria Beckham designed her wedding dress, Now, Eva is expecting her first baby, and there's no doubt that Victoria will be a phone call away to answer any first time mom questions.
Jimmy Fallon and Justin Timberlake
The relationship between Justin and Jimmy is the epitome of bromance. These two are hilarious separately, but when they get together, whether it's an interview or one of their hilarious sketches, you are guaranteed to be laughing so hard your abs hurt.
Tina Fey and Amy Poehler
Tina and Amy are total boss babes, and serious Galentine goals. From their SNL days hosting "Weekend Update" together to co-starring in Baby Mama to hosting the Golden Globes, we just want a slice of their awesomeness. Maybe one day, Liz Lemon and Leslie Knope will be working together to take over the world? We're crossing our fingers!
Oprah, Mindy Kaling, and Reese Witherspoon
What a powerful, magical trip right? They bonded during the filming of the upcoming A Wrinkle in Time, Oprah is the one who spilled the beans that Mindy was pregnant with her daughter! Could you imagine getting to call Oprah "auntie?"
Jennifer Lopez and Leah Remini
An unlikely pair, the actresses have actually been friends for a long time. On her Scientology documentary, Remini revealed that the top officials wanted her to recruit Lopez, but they were too good of friends for that. When Remini was on "Dancing with the Stars," Lopez, a dancer, was in the audience to cheer her on.
Barack and Michelle Obama, and Prince Harry
Can we talk about how cute this is? The Obamas and Prince Harry have become quite close over the past couple years. President Obama even did an interview with Prince Harry, which was the funniest thing ever. Their friendship seems so genuine that it's no surprise the Obamas were invited to Prince Harry's wedding to Meghan Markle this spring.
Martha Stewart and Snoop Dogg
Talk about unlikely pairs. The two have been friends since the rapper appeared on Stewart's daytime show in 2008. They got their own cooking show on VH1, "Martha and Snoop's Potluck Party," and frankly, their chemistry is really a sight to behold.
Taylor Swift and Ina Garten
Any relationship built on a mutual love of food is clearly one that is meant to last. The "Barefoot Contessa" creator has admitted that she listens to Taylor's songs while cooking, and she always likes her Instagram posts.
James Corden and Harry Styles
These British besties' friendship goes all the way back to Styles' days in One Direction. They are such good friends that when Harry's solo debut album was released in 2017, James Corden devoted the whole week to his friend on the "Late Late Show." And when Corden's wife suddenly went into labor, preventing him from hosting the show that night, who did he call? His bestie Harry Styles of course.
Which celebrity do you wish was your bestie?