15 Fun Ways To Ring In 2021––Without Being A Stupid Super-Spreader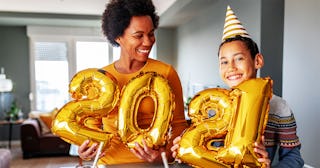 Riska/Getty
It's finally here—the end to the longest year in our lifetime. We've been waiting to bid farewell to 2020 since, well, March tbh. So if there's ever a year to party our hearts out, it's this New Year's Eve. However, we're stiiiiiiill in a pandemic! (haha, *cries) so we can't really go to any parties or host any parties. But what we can do is have a fun night with our own little crew, at home, in our living rooms. We can show our kids what optimism and hope look like and we can throw balloons in the air at midnight (or fake midnight if you change your clocks—wink wink), say "Happy New Year!" and hug and kiss the people we live with, and dream of what 2021 might bring. (Like vaccines and a holiday with Grandma.)
So if you want some ideas for celebrating the new year—pandemic-parenting style—here's a list chock full of fun for all ages.
1. Make it a real party.
Maybe that means getting dressed up in your fanciest of fancy—heels and all. Maybe you're like me and don't really own heels and prefer to party in leggings and a hoodie. It's up to your family to decide what "party attire" means. Other ideas include hanging a disco or mirror ball, serving festive drinks and snacks, and decorating your house with all the shimmer and glitter and pizzazz you can find.
2. Drinks, you say?
Some people say you shouldn't find happiness in food. We think those people are wrong. Make your family's NYE party hoppin' with fun beverages and appetizers everyone will love. There are like eleventy billion ideas online, but we pulled a few that really stood out. Like how about a "Cotton Candy Magic Mocktail" (which is literally two ingredients—Sprite and cotton candy!) or fill shot glasses with milk, but first, dip edges in melted chocolate and sprinkles. Boom. You're the most fun parent ever.
RELATED: Best Cotton Candy Machines For Kids Who Love Sugar (AKA All Kids)
Or you could go more traditional and simply do sparkling grape juice in champagne glasses (we recommend ordering plastic ones for tiny, clumsy hands).
3. Feed your "guests" some festive foods.
We love the idea of a "clock countdown" quesadilla or pizza. Kids can fill their bellies AND practice telling time. *Hashtag winning. And, for dessert, how about these adorable glitter sprinkle marshmallows from The Decorated Cookie? Or let them have ring pops to "ring in the new year." (You know your kids aren't going to bed early tonight anyway, so might as well let them binge on sugar.)
4. Let your hungry kiddos feed themselves with "make your own…" stations.
Whether it's "make your own pizzas," complete with a toppings "bar," or a cupcake decorating party, the more you involve them, the better. Sure, it's still a shit ton of work for you, but what isn't? You're the mom. This way, though, you're letting their creative juices flow and making an otherwise boring pandemic day a lot more fun.
5. Another way to fill the time—party prep!
One of the reasons parents dread winter break is that we know we'll be in charge of entertaining our hyper AF kids all day every day for two weeks. Well, get their little fingers working, crafting, cutting, and glueing! If you're brave enough to do NYE confetti (your kids will love you and it's pretty easy to vacuum up), have your kids cut up the tiny paper bits ahead of time. Party prep that also helps them strengthen their hand muscles and work on cutting skills?! Look at you multi-tasking. Or, they can decorate plastic cups and their party hats with stickers… markers… glitter glue… whatever craft supplies you've got, put 'em out. Chances are your crafty kids will be entertained for a while.
6. If you're especially crafty, turn it up a notch.
The crafty moms save us again with their creative, kid-friendly ideas that we'd have never thought of. Like these super cute pom pom poppers from Tantrums and Rainbows:
How about these adorbs noisemakers from Crafts Unleashed?! Or this one—NYE fortune cookies from Crafts by Amanda. But don't forget to plan ahead and make sure you have all the materials so you don't end up with grumpy, whiny kids. (I mean, you might anyway, but don't let lack of craft supplies be the reason.)
7. Games, games, games.
Lots of options here—like family trivia! How well do you really know each other? Write down your answers to questions like "If you could eat one food for the rest of your life, what would it be?" and "If you could travel anywhere in the world (or out of this world!) where would you go?" and see if your family members can guess what you wrote. Other ideas include charades, Pictionary, karaoke, or turning the lights out, breaking out the glow sticks, and playing glow-in-the-dark ring toss or have a glow-in-the-dark dance party. Of course, you can can always keep it simple and just do a marathon board game night. Monopoly, Battleship, maybe a little Cranium, or even a puzzle are all fun options depending on your kids' ages and interests.
For younger kids, "Minute to Win It" games are hilariously fun and conducive to shorter attention spans. The Idea Room has an extensive list of options your kids will love, like "New Years Stack Attack" and "Tick Tock Tic Tacs." And if you really just need your kids to sit their asses down for a hot minute, NYE Bingo is always a good choice. Check out Thirty Handmade Days Blog for some cute printables.
8. Turn your living room into Times Square!
The Spruce has several adorable ideas for turning up the party meter at your house as you wait for the ball to drop at 12 a.m. in NYC. You can make your own piñata ball and let your kids knock it down at midnight. (Or at like 4 in the afternoon if you want! It's your party, your rules.) If you can tie up some sort of netting or even a bedsheet up high, you can also do a balloon drop. Your kids will seriously think you're the coolest mom if you pull this one off. And, speaking of balloons, another way to score some serious "fun mommy" points is to fill the balloons with confetti as you inflate them. Then, as they come down, let your kids pop them as they call out "Happy New Year!" Sure, your house is a mess now, but after the mess that 2020 has been, who TF cares.
9. "Counting down" the minutes…
A "clock countdown" quesadilla isn't the only way to watch time tick by on New Years Eve. You can label confetti-filled balloons with different times and pop them as the night goes on. Or, games like "Kisses Countdown" from The Idea Room or create goodie bags to be opened each hour leading up to midnight. Fill them with stickers, glow sticks, word searches, a snack or treat, or whatever else you think your kids would get excited about.
10. Get sentimental.
Okay, 2020 had some good parts, right? (We're looking at you, Biden/Harris ticket!) How about giving each kid (or family member) a page and having everyone "scrapbook" the year. Print out pictures from various times throughout 2020 and share memories of fun times you had. Even if those memories are mostly watching movies at home or going on a hike or playing outside in a pile of leaves.
You could also create a "compliment" or a "kindness" jar. Basically, you write something down for every week of 2021. (Or every day, if you're super motivated have a lot of kids to participate.) It could be an act of kindness you could do, or a kind word or sentence about someone else. Especially after such a challenging year, it's a great way to kickstart the new year with the right mindset and help your kids remember what matters most.
11. Write down your goals for 2021.
Not everyone is into "New Year's Resolutions" specifically, but having your kids write out a list of goals for the coming year is never a bad thing. Maybe "My goal is to improve my baseball swing" or "my goal is to work on patience." (Okay, that second one is for Mom.)
Of course, you could also put a humorous spin on New Year's Resolutions and play "New Year's Eve Mad Libs", which, tbh, looks hilarious. I mean who doesn't love Mad Libs?
12. Don't forget—you're in charge of the "clock."
It might be a few years until your kids are old enough to stay up until actual midnight. Hell, you might not be able to make it either. So don't feel pressure to push your festivities that late in the night. Fudge the clock, especially if your kids can't tell time yet! Start your "countdown" whenever you want. It's your party.
For little bitties, you can even have a "Happy Noon Year" party and move the entire event up 12 hours. Hey, a party's a party, right?
13. No 2020 soiree is complete without a selfie station.
Embrace the 21st century and the fact that your kids are likely obsessed with selfies (maybe you are too) and set up a photo booth! Costumes, fun hats, wigs, fake mustaches, boas, huge sunglasses, masks of Donald Trump crying over his loss… throw it all in there with a festive backdrop like a red or black sheet or blanket. Boom. Now you're definitely capturing memories from this epic NYE party.
14. Teach your kids the beauty of a good toast.
They may not have real champagne in their plastic cup covered in stickers and glitter, but that doesn't mean they can't raise their "glass" and say "cheers" to the end of 2020. Everyone can share something good that happened this year (even if you have to dig reeeeaaaalllly deep). Or, share something you're all looking forward to in 2021 (how many ways can we say "vaccine"?)
But in the end, you're teaching them to share what they're grateful for and to spread love and good cheer as they raise their mocktail, milk, root beer, or grape juice in the air and "clink" their plastic cup with yours.
15. And finally… confirm your official "fun mom" status by having a family slumber party. (Even if Mom sneaks up to her comfy bed once they're all asleep.)
If you have a finished basement, let the kids dig out sleeping bags and bring their pillows and stuffed animals downstairs. Watch the ball drop in Times Square, then snuggle up for bed. Or, set up the slumber party in the living room after the games have been played and sugary treats have been consumed and the kids start to get tired (we're pretty sure you'll be tired too).
Hopefully next year you can ring in the new year with friends or extended family or let your kids have 10 friends sleep over (if you're a brave parent like that), but until we ride out this pandemic, we'll have to continue searching for ways to have joy and merriment and festivities without extra people. And thanks to our good friend "the internet," turns out there are 900 billions ways to do just that.
Happy New Year! OMG PLEASE BE BETTER, 2021.
This article was originally published on