Top 15 Hottest Toys For This Holiday Season
by Team Scary Mommy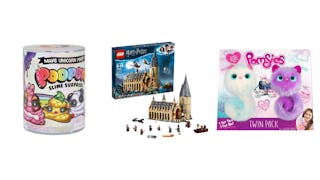 walmart.com
What a magical time of year! Kids are making their wishlists and parents are getting migraines wondering what the heck these kids will unbox next. Don't you sometimes wish for the simplicity of our childhood Christmases when all we wanted was Cabbage Patch dolls and colorforms? But if you're overwhelmed, here's a list that might help you out—from the newest Fingerling to Harry Potter LEGOs to a board game about popping zits. It's all here.
For the tech-savvy kid in your life, Boxer is this year's most sought after robot. With NO ASSEMBLY REQUIRED (yes, you read that right, parents!), Boxer pops out of the box, ready to play, interact with your kids, and do tricks.
Creatures that come to life continue to dominate the hot toys list, and this furReal Munchin' Rex Baby Dino Pet is no different. This dino pet generates more than 35 sounds and movements, and comes with a bottle, broccoli treat, and caveman cookie treat.
Lots of kids would be thrilled to open this giant L.O.L. suitcase of surprises. With over 60 tiny treasures to be discovered, this one's a guaranteed hit for the L.O.L. lover in your life.
It's a bizarre but fitting combination of three things our kids love—unicorn, slime, and poop. Parents everywhere are saying, "Yeah, I'm not surprised" when they see this toy, making it one of this year's most popular.
Attention LEGO fans! It's time to up your game and build a robot that you can program. That's right—LEGO has jumped on the tech train with these robot-building kits that teach kids how to build, code, and program a robot. And since it's 2018, all kids need to do is download the LEGO Boost app for instructions.
A stuffed animal that you can wear as a bracelet?! Kids everywhere say, yes please. Pomsies are all the rage right now, making them a smart choice for Santa's bag.
America's creepy obsession with zit popping isn't just for adults—kids can get in on that too. Yay! So if your kids think zit-popping is an enticing activity, they might like the Pop a Zit game. Just brace yourself, because this could "pop" up on Family Game Night.
Maybe you've heard of Fingerlings, and your child already has a few attached to their fingers 25 hours a day, but have you heard of Fingerling HUGS? Don't worry, you will. These are stuffed animal sized, and they talk back (just like the original). A definite hit for this year's holiday season.
With never-before-seen features and effects, Spider-Man takes down his villains in "improvisational combat, dynamic acrobatics, fluid urban traversal, and environmental interactions" in this new game from Marvel. Your teen will be thrilled to open this gift and you'll earn cool mom points for life.
This Hogwarts Great Hall LEGO set is appearing on every "hot toy" list this year. I mean, who doesn't need a LEGO Hagrid in their lives?
This little Jack Jack makes sounds, lights up, and comes with a raccoon toy. And if your kids loved Incredibles 2 as much as the rest of the world, be sure to grab one of these action dolls and sneak it under the tree.
If you have nerf-loving kids, the Nerf Prometheus has likely been mentioned a time or two (or more like 800). This thing comes with a rechargeable NiMh battery, charger, 200 rounds, 2 flags, and a shoulder strap, making it hands down the "most epic Nerf toy ever."
Continuing with the unboxing trend, Crate Creature's Surprise is a new "beast friend" for your child. This one is named Sizzle and if you pull his tongue, he vibrates and makes gross monster noises. It's unboxing on a whole new level.
This classic wooden cash register looks retro, but it includes a credit card feature that our registers of yesteryear sure didn't have. A simple, yet effective way to foster imagination, pretend play, and teach kids about money, the Hape Toys cash register is definitely a winner.
This game is exactly what it looks like—your kids are going to get wet. Kids keep spinning until one of them eventually gets a wet head, hence the name. For good fun and lots of laughs, this one's sure to entertain your kids for those long summer days when you kick them outside.
So there you have it, parents! 15 hot toys of 2018. Better get shopping though because these won't last. You don't want your child to wake up to a Christmas without unicorn poop slime, do you?
We are a participant in the Walmart.com Affiliate Program and may earn fees by linking to Walmart.com and affiliated sites.
This article was originally published on