20 Hilarious Tweets That Prove Twitter Is Dirty AF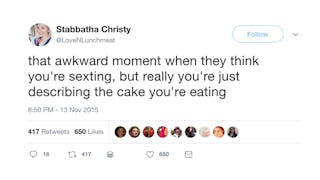 Twitter/@LoveNLunchmeat
There are some people out there who say they don't really "get" Twitter.
Those people, I can only assume, are sad and lost and haven't figured out who to follow yet, because Twitter is full of the funniest and dirtiest minds on the planet. It's my laugh therapy.
RELATED: The Steamiest Free Literotica-Style Online Erotica We Can Find
And there is no such thing as Twitter After Dark because Twitter is hilariously inappropriate all day, every day. With funny tweets about sex, porn, orgasms, anal, sexting—and everything in between, the funny people of Twitter will always leave you satisfied and smiling (from laughing, you pervs).
It doesn't get much better than humor that's NSFW, but will make you LOL for real. Here are some of the funniest tweets about sex that I could find:
Let's begin with a little something for the ladies:
Or maybe naps aren't your thing, but food is:
Either way:
Food and sex just seem to go together:
For better of for worse:
And sexting in general can feel awkward:
I never even know what emojis to use:
Not that that stops me from doing it:
But it's easy to talk a big game from behind a keyboard:
In fact, sometimes you can barely believe your own words the next day:
And sometimes your brain lives in the gutter anyway:
For ladies, sex is all about the foreplay:
No matter how long it takes:
And sometimes you need to stop to put your hair up:
And according to Twitter, even breakfast cereal is doing some pretty freaky shit:
Actually a lot of tweets about sex involve fictional characters:
While others are almost too real:
And others are way too real:
If you're a parent, you understand the importance of sex education:
Or, if you're married, sexting mostly looks like this:
Twitter is a lot of things, but it's definitely intended for adults only. Because it's funny as hell, but it will always be dirty AF.