These Funny Back-To-School Tweets Are A Little Too Real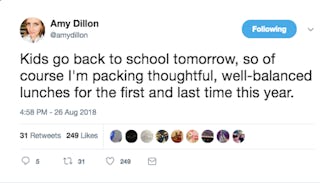 Image via Twitter
After three whole months of togetherness, it's back-to-school season
Back-to-school time is here and parents have a lot of feelings about it. There's those of us sending our babies off for their first day of kindergarten trying to hold back tears, and those of us with older ones who've had just about enough already and silently cheered as the bus drove slowly away, air blowing kisses to the drives, aka, our heroes.
RELATED: Starting High School? Here's How To Prepare For Your Very First Day
If you're feeling a little blue and can't stop saying "I wish time would slow down," you could probably use a laugh and to know you're in good company. We've all been there. Your babies are going to be okay and so will you. It eventually gets easier (promise).
Plus, the good people of Twitter have you covered when you're ready to laugh:
Then there are those who don't quite have our shit together this year (or any year if we're being honest). Here's to those of us racing around Target the night before school starts for forgotten items, frantically putting money in our kids' lunch accounts before school calls, and staying up late to wash their back-to-school outfit they mentioned wanting to wear a week ago. There's light at the end of the tunnel — and if it's a Bud Light, no one's judging:
Listen, summer is a long three months of togetherness. There are activities to drive to, fights to break up, and a million creative answers to the question, "I'm bored. What should I do?" Plus, it's exhausting to mutter swear words under your breath for that many days in a row, willing someone (anyone) to call and ask your kid for a playdate.
It's been a long road and some of us are welcoming back-to-school with open arms (and a tall mimosa). And it seems there was no shortage of us in that boat:
No matter what, our kids will come home tonight excited to tell us all about their first day (that's for you, kindergarten moms) or to inform us that nothing actually happened during the seven hours they were gone (that's for the rest of us). Whatever boat you're in, enjoy it. It goes by so fast (and sometimes not fast enough).
This article was originally published on