PSA: I Have Found The Best Yoga Pants Ever, And They Cost Less Than $20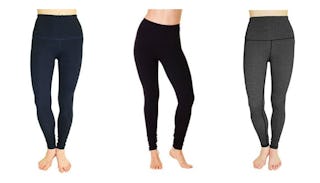 Amazon
I don't always feed into stereotypes, but when I do it is because I need to tell you that have to go right now and buy something that will change your life. Like these yoga pants.
Less than $20, and true to size, and they are a game-changer. They actually do offer that lower tummy control that so many of us are after, without cutting off your circulation or having to be yanked up to your nipples.
You can wear them to bed, then throw on a tunic or oversized sweater and head to school drop-off looking like you got up extra early to look presentable. Or you can wear them around the house, so that you can maintain full range of motion. Or you can actually wear them to do yoga. I wear them for all the things. I prefer them to the higher-priced crap that I've been suckered into buying with my limited disposable income.
Huge bonus: They hold up well in the wash. My one complaint with affordable stretch pants is that sometimes they wear thin really quickly, rip along the seams, or start pilling. Not these! Swear. I've got five pairs now, and some I've washed literally dozens of times, and they still look legit.
Extra bonus: They make the booty pop.
Really, I've been an advocate for these things since I ordered a few pairs to get me through the postpartum period with baby No. 3. I wanted something affordable, so that I could toss them out without guilt if needed. (You know how angry your lady parts are after delivery.) The thing is, I pulled them on and was like "Where have you been all my life?" and now I basically wear them everyday.
Editors may receive samples and/or a share from purchases made via links on this page.
This article was originally published on