3 Things I Want to Tell My Friend Whose Child Was Just Diagnosed With Special Needs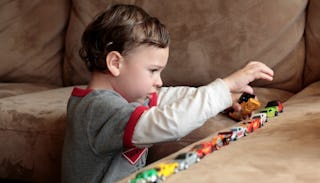 Linda Epstein / iStock
My husband and I have two boys, ages 8 and 10, both of whom are on the Autism spectrum. Every time a friend or acquaintance comes to me and tells me their child has been diagnosed with autism or another special need, my heart aches just a little bit more. Because I know things, and the path their new life will take will be rewarding, but exceptionally difficult at the same time. Here are three things I want them to know, things I learned the hard way:
1. Advocacy is a nice by-product, but it's not your job to make stupid people understand. Listen, some people are stupid, plain and simple. Either they intend to be mean, because they're assholes, or they have no intention of understanding because it's just not a priority to them.
Years ago, right after our oldest was diagnosed, I was in a fast food restaurant and I ran into an old friend of the family. She wanted to know how therapy was going, and was asking questions about the boys and their therapy. I walked into the play area, and a stranger followed behind me. It started off innocently enough:
"I didn't mean to eavesdrop," she started, "but I heard you talking to that woman about your kid having autism."
I smiled. "Yes."
"I don't mean to judge, but did you vaccinate your children?"
I should've stopped her right there, and told her to shove it, but I was naïve and believe in teaching opportunities.
"We did, yes."
"You know that's what caused their autism. Have you researched this? Is your husband OK with you abusing your children? He must not be educated."
"My husband is a physician, actually, and we made the decision to vaccinate with our pediatrician," I said, trying to remain calm.
"Oh, well that explains it. Your husband gets paid by the pharmaceutical companies."
This lunatic had no intention of learning about what autism means to our family. She came in with the sole intention of making me feel bad about my mothering skills. People like this can suck the life out of you, but it is not your job to make them understand what you and your child are going through. It is your job to be your child's mom.
2. You are going to lose friends, and at times, you will feel lonely. This is an unfortunate by-product of this life you are embarking on. I've yet to know someone with a child with special needs who hasn't lost a friend or two because of it. Maybe it's because of their own insecurities. Maybe it holds a mirror up to their imperfect life. Who knows? But the less time you focus on the people who step back and more you focus on the people that step forward, the better off you'll be.
Even the well-meaning friend will say insensitive things to you. Nothing makes me angrier than people telling me I needed to 'grieve the child I wanted.' I always hold back from responding, 'no, you grieve the child you think I should have.' We have the children we are supposed to have, regardless of what others may think.
While people will disappoint you with their behavior, the friends that step up and stick by you are the ones you will keep forever, because they get it. These are the golden ones; hold onto them tight.
3. Everyone can and will Monday morning quarterback your decisions, but they're not living this life, you are. Acceptance needs to be your new mantra for yourself. You are going to make mistakes. Accept this now, and it will be less painful when you screw up. There is no playbook for your life. Even with research, fabulous therapists, and brilliant doctors, straightforward solutions are usually not the first answer.
You will get angry and frustrated, but that is a waste of your precious time and energy. When our first child was diagnosed, I got into the tub and cried, because I didn't know what I was up against or what the hell I was doing. When the second child was diagnosed, I crawled back into that tub and cried, because I knew what I was up against. I can't change the way their brains are wired, just like I can't change their eye or hair color. It's what makes them them. While I dragged them to therapy multiple times a week, I used the rest of the time to focus on their gifts and strengths.
What you do need to do is throw all of your expectations out of the window while you drive towards a new destination. This is the life you are living. Embrace it.
Related post: Dear Newly Inducted Special Needs Parent
This article was originally published on